Christian rock veterans Superhero have moved from being 'just a band' to a group of brothers with a unique calling. Ahead of their two month Battle For Your Soul tour of the UK, we talked to frontman Tim Cheshire about the band's music, message and mission.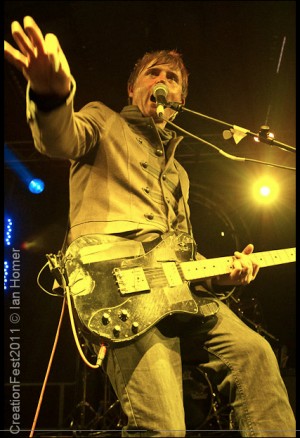 How long have you been together?
The band has been going for over 10 years now. We started out like most bands living in the same place, listening to the same kind of music. There was no great grand plan. But within a short space of time it became obvious to all of us that there was something a bit more involved to what we're doing than just guys getting together and starting a band.
How are you more than just a band?
We all have similar views on the idea that music can be a powerful tool to communicate anything and for us we're all very passionate about our faith and looking for ways to reach out to young people with the gospel message. Within a short space of time the band quickly developed into more of a missional form.
We are completely 100% missional now. It's all we ever think about. Everything we do apart from the occasional one off gig here and then is strategically planned.
Do you preach the gospel at every gig?
Yeah definitely. Christendom changes in the way it operates, but for us we've stayed committed to the idea that there's a place for and power in publically preaching the gospel and challenging people with regards to how they relate or don't relate to God.
We're pretty old school in the way we do that. We were in Estonia playing in a nightclub until 3am next door to a strip club preaching the gospel to a whole bunch of drunk people, tomorrow we'll be in front of 5000 people and we'll do the same thing. In September we'll play in front of a couple of hundred kids every night and do the same thing.
We will say 'this is why we're here, this is what we believe, this is the good news, it's incredible and it's available to everybody'. We solidly believe the most important thing is what happens after that. We're not advocates of trying to make it look like lots of people are responding by saying anything to get people's hands up. But everyone's journey begins somewhere and our job is to point them towards Christ.
What is your album and song titled The Bicycle Thieves about?
I'm a bit of a movie buff and one of my favourite films of all time is a film by an Italian director called Vittorio De Sica who birthed the neo realist cinematic movement in the 1940s.
One of his most famous movies is called The Bicycle Thief. It's about a guy who leaves his job, he's in post 2nd World War, depression struck, there's no work and he finally gets a job but in order to do this job he needs a bike. Him and his wife sell something very important to them, they buy a bike and it's a new lease of life for them.
He goes out on the first day and within two hours somebody steals the bike so the rest of the film is him trying to find the bike. At the end he gets so desperate that he ends up stealing someone else's bike.
It's all about not being judgmental because at the end of the day we'd probably all steal the bike, so we need to be forgiving and understand the circumstances revolving around people's decision making.
What was the theme of that album?
I was definitely thinking a lot about church unity when I wrote those songs and how important it is for us to be a shining light and an example of how people can live together in community and be united.
Is your song Cool Police a protest against cultural relevance?
At the time of writing we were on tour in America and a lot of the churches were obsessed about being culturally relevant. Anything meaningful and challenging was discarded from what they were saying cause they were so desperate to be culturally relevant.
They watered it down so much it became meaningless. We're aliens and strangers, you can only be so culturally relevant. I think cultural relevance is important but it can become an obsession and we end up putting that first.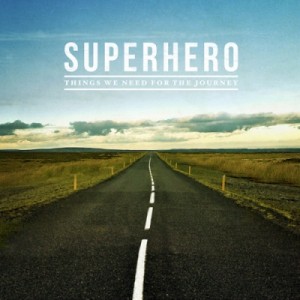 What's the new album Things We Need For The Journey about?
It's about the importance of making sure people don't get stuck in this idea that the be all and end all is getting somewhere.
People often say to us as a band 'do you think you will ever make it?' I'm like 'I don't really know what you mean'. I don't know if there even is a destination, this is it! We're doing what God has called us to. People have this idea of a pot of gold scenario at the end of the rainbow and I think sometimes as Christians we can get into that mentality.
What we really need to remember is the most enriching thing in all of this is the journey, the things we learn on the journey and how God is part of helping us get to where we want to go.
What encouraging stories have you received from people who have been impacted by your music?
I mostly write about the more challenging aspects of our faith so there's not a huge amount of 'hey it's all going to be OK, God loves us', even though I believe that to be true. They aren't the things that I feel stirred to write about.
People email us and say 'your music blesses me' but for us way way way more important is that we want the experience of people meeting us and spending time with us to be positive. We want our lives to be a demonstration of the kingdom of God.
We need to keep preaching the gospel and telling people about Jesus. That's way more important to us than our music touching people. Which is a strange thing for a band to say I guess.
What's the best Christian book you've ever read?
I'm reading The Cost of Discipleship by Dietreich Bonhoeffer which is an incredible but challenging book. He's a bit of a hero of mine. Also anything by AW Tozer.
What has God been teaching you recently?
The gospel is more than just telling people how they can be rid of their sin. Yes, primarily it's talking about people being rescued from their sin but also it rescues people from their hunger and need and desperation and lack of opportunity and poverty.
August 9th, 2012 - Posted & Written by Sam Hailes