"I flipping love church!"
I'm talking to Lindz West, lead singer of LZ7. He's just finished playing The Big Church Day Out's main stage for the first time and is "buzzing".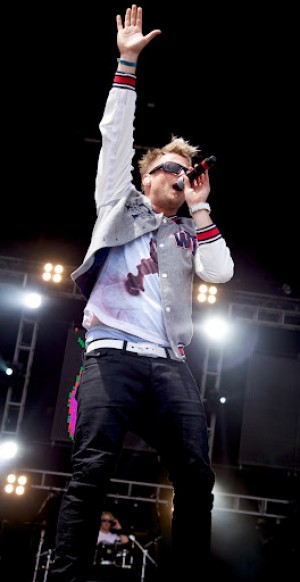 Lindz West
(c) Sixthday.co.uk
Passionate about Manchester and music, but most importantly their faith in Jesus, the band's high-energy show had gone down well.
Smashing stereotypes
LZ7's influence has gone global in the past few months as the band has embarked on tours of not just UK schools, but much of Europe and even Australasia.
"We try and maintain the same energy with five kids in a high school or a prison and 10,000 people jumping about because it's all about Jesus and we want to break that stereotype of what it is to be a Christian and say you can be creative," the front man explains.
Their message is simple. Lindz's talk about "smashing stereotypes" that young people have of church is a common topic as we discuss the band's music.
"How do we break that stereotype of what their mum and dad have said about smells and bells and it being a killjoy? How do we make it as attractive as possible and talk about what we're for? We're for life and for love."
27 Million
Often playing schools across the country, the band regularly see hundreds of kids make responses to the gospel. Although Lindz admits he has to be careful not to exaggerate, you can tell he's on a roll as I ask him about the band's recent time performing new song 27 Million in a French school.
"I can exaggerate cause I'm an evangelist, but I'm not exaggerating; every single kid sang it at the top of their voice and I hadn't taught them it. Then they sang the track and I thought 'this thing is universal'. Music can cross boundaries and there's power in it when you speak God's word in it."
The song, if you haven't already heard, was a joint project with Matt Redman to raise awareness about the 27 million people currently trapped in slavery and being trafficked across the world. With the track reaching number 12 in the UK singles chart, the impact has been impressive.
Music can cross boundaries and there's power in it when you speak God's word
"The awareness that's going out there, I don't think we've seen the extent of it yet! I get tweets every day 'I've just done this assembly I've raised this.' I'm just like, 'this has gone everywhere!' And Matt Redman is amazing. Very short, but amazing."
When the song was performed to 45,000 students in Atlanta, $3.5million was raised for the A21 campaign, a number that Lindz says is "ridiculous" when considered per head ($77).
"If there's any way we can address issues in society through our music we want to do stuff like that and to be saying something rather than nonsense."
'I become a Christian every day'
There's no doubt that Lindz is an evangelist at heart. He became a Christian at 19. "That was two years ago," he jokes, reluctant to give his real age away.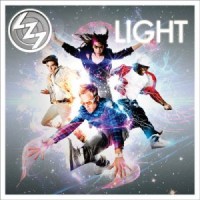 Turning half-serious again, Lindz says "I think I become a Christian every day. Because you make so many mistakes the night before!"
Aware that encouraging people to say the "sinners prayer" is the first of many steps in the Christian walk, Lindz is excited to launch the 4 Points Discipleship Course.
"It's an access all areas lanyard looking thing and it's got a memory stick in it. You give it to a kid and they plug it in and it takes you through the journey of becoming a Christian. That's a big thing for us at the moment because... LZ7 gig and what they know as church - how do you cross that Engle scale of the two things? We're trying to work this out step by step and put in simple language what it means to be a Christian and a disciple."
Keeping perspective
To say the band are busy would be an understatement. A few weeks before the interview they had been at New Zealand's biggest Christian music festival before going to a school to perform for "1000 Kiwi kids".
"Jesus didn't keep his ministry in the church, he took it out and said to go and make disciples of all nations. We're getting out there and seeing what happens."
With such a busy touring schedule and plans for a new album and single in the pipeline, Lindz says he's been wanting to learn how to "operate from a place of rest".
Jesus didn't keep his ministry in the church
"You can spread yourself thin because there's so much need. Schools work, chart work, club stuff, festivals and all this kind of stuff. We're getting to find that balance of rest and work."
Lindz talks about taking what he's learned in Manchester and spreading it to the rest of the world. He's even started his own charity called Light – the same title as their last album. "When the disciples came to Jesus and said we haven't got any fish and he said chuck your net on the other side of the boat and that's where we're at. We're trying everything!"
It's encouraging to witness LZ7 not just trying to spread the gospel, raise awareness about human traffiking and disciple young people, but actually succeed at all three. Christians often quote Paul's words in Ephesians that God is able to do "immeasurably more than we could ask or imagine". If LZ7's ministry isn't an example of that verse, I don't know what is.
August 2nd, 2012 - Posted & Written by Sam Hailes