Vertical Church is a new movement pioneered by one of America's most well known Christian leaders. James Mcdonald is most notably the pastor of Harvest Bible Chapel in Chicago, which attracts around 13,000 people a week. He can also be heard preaching to hundreds of thousands of Americans every weekday on his radio show Walk In The Word.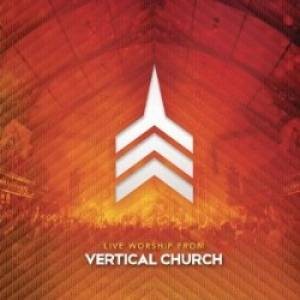 So if James leads Harvest Bible Chapel, then what is Vertical Church? It's a good question, and one that his large website fails to answer. But put simply, Live Worship from Vertical Church is best viewed as Harvest Bible Chapel's worship CD. The Vertical Church title is also shared with James's latest book.
You may think that a large US church releasing a worship CD is hardly news. And you'd be right. But thankfully, the quality of songwriting, musicians and overall sound on the recording certainly is news.
The concept of Vertical Church is to "raise the bar for leaders and their churches". While the book is undoubtedly challenging, the songs on the CD don't raise the bar of modern worship – rather they add to an already strong culture of writing and producing top quality songs for the worldwide church to sing.
Kicking off with Open Up The Heavens, the album utilizes great electric guitar and drum sounds. One of the challenges churches face in putting together a worship album, is to make their own mark rather than copy other popular models. The team at Harvest have risen to this challenge as each of the 8 worship leaders voices are unique and pleasant to listen to.
I Believe In You is reminiscent of Matt Redman's We Are The Free while Word Of God sees the church put a fresh musical spin on Brenton Brown's new song. As with almost all church recordings, the material on the record will mean the most to those who regularly attend Harvest Bible Chapel. But the collection of fresh songs will also delight listeners thousands of miles away here in the UK.
The unmistakable voice of producer, songwriter, and front man of One Sonic Society Jason Ingram leads the congregation through For All You've Done (I Worship You). It's a stand out track full of pace. Subtle loops, echo filled drums and gentle guitar parts abound as Jason sings "For every step You've brought me through, I worship you".
More well-known songs including The Greatness of Our God and How Great Is The Love feature on the recording. With none of the tracks written before 2009, the recording is up to date, inspirational and worshipful throughout.
The album closes with a reprise of the first track, which gives the listener a feeling the release has come full circle. It's an effective way of rounding off the album.
The recording should be praised for a healthy balance of upbeat and reflective songs, the team's desire to make their own mark on the worship scene and the decision to make the songs punchy and avoid extended periods of spontaneous worship – which may be powerful in the moment but often come across forced or even boring on live recordings.
All in all, Live Worship from Vertical Church is "just another live worship album", but those willing to hear it out won't be disappointed. The style of songwriting may feel familiar, but in reality these songs are both exciting to listen to and useful for local churches in the UK. The idea that a worship pastor in Chicago could write a song, put it on a CD and a Christian in a rural UK village pick it up and teach it to a congregation is an exciting one. Live Worship from Vertical Church deserves to be praised for that fact alone. This album isn't just pleasant to listen to, it's a great resource for churches.
Rating: 7 out of 10
October 11th, 2012 - Posted & Written by Sam Hailes