Sean Feucht's 12th worship album is a collection of powerful live moments of worship, extended solos and spontaneous praise.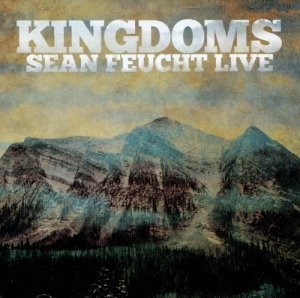 Kingdoms is best viewed as a whole, as opposed to listening to individual tracks. Although there are only 9 tracks, one of them is over 10 minutes long and others clock in at 7 or 8 minutes. This results in an album that gives you a full hour of music - and then some!
Those wanting a quick, attention grabbing melody that can be played in church the next day will be disappointed. We have to work a lot harder than that to get to the heart of each song. It's obvious that Sean has spent many hours crafting his lyrics.
With little tampering in the studio, the album is a great example of live music which is good quality, without sounding forced and overproduced. Even a few potential out-takes have been left in. Sean isn't pitch-perfect all the time, but in a world where so many live albums are almost entirely re-recorded in the studio, this is genuinely refreshing.
There Is Only One is a fantastic song that, despite being unnecessarily extended to fill 10 minutes in the middle of the recording, still feels fresh and interesting to listen to; not to mention sing along with.
Point Of It All / Every Other Lover Fade Away is a gentle interlude between some more up tempo songs. Utilising a few simple refrains, Sean leads the congregation beautifully as the music ebbs and flows.
The talented Kristene DiMarco makes an appearance on two of the songs. Both Sean and Kristene come from Pentecostal backgrounds and place a high priority on the prophetic. This results in a feeling of spontaneity that runs throughout the recording. Whatever your theology on worship and the Holy Spirit, it's hard to deny that the recording has an 'organic' feel to it as the worship leaders go with the flow.
The album contains a number of vivid lyrical images such as, "Like a woman in labour we long, birth anew all the love that's been gone," in Glory In The Highest. Swimming In Your Love is clearly very too, especially as some of the most repeated lyrics are: "Splish, splash, I'm taking a bath in the glory". This style of worship is appreciated by some more than others and it's easy to see why.
But whether you enjoy the slightly wacky lyrics of those such as John Mark McMillon ("I am a tree"), Godfrey Birtill ("Are you ready ready ready? Ring a ding a ding a ding"), and now Sean Feucht or not, there's plenty to be enjoyed on this recording.
The final track is beautifully soothing and relaxing as Sean and Kristene sing together, over a soft piano riff, about laying burdens down. The entire recording has an excellent flow to it, so it's almost disappointing to hear the music fade out at the end. You get the impression the band could have happily played on for eternity.
If you're looking for something a little different with a great live feel then Sean Feucht has just what you need. If you crave a whole album approach to music, rather than the culture of downloading just a few choice songs from iTunes, you'll love this album. Kingdoms is a recording to be savoured.
Rating: 8 out of 10
July 17th, 2012 - Posted & Written by Sam Hailes