Israel Houghton has four Grammy awards under his belt, two certified Gold albums and has just celebrated a decade of making music that crosses cultural boundaries.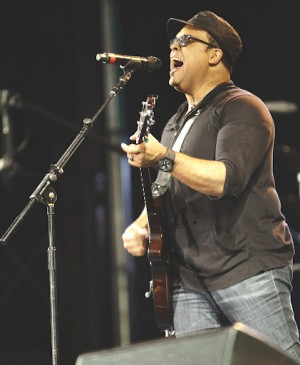 Israel Houghton
(c) Josh Hailes
With his faith underpinning the content of his music, Israel Houghton's career suits, though is not entirely constrained by, the gospel scene. How did it start?
"I had a radical encounter when I was five," the musician explains. "It was very much a light bulb moment. I had got in trouble that day and at our church they were showing this movie called The Burning Hell. It was meant to scare you into the kingdom of God. It did just that!"
"Looking back on it now, it's the tackiest, cheesiest thing of all time. My Dad leans over to me and says, 'That's where liars go', and I had got caught lying that day. I remember thinking I really didn't want to go there. I prayed and cried with Jesus but it took root with me. Although I was scared into the kingdom, I'm not scared anymore but it really started there."
"I'm just an ambassador"
When asked about 2005's Alive in South Africa and 2004's Live from Another Level, both selling over 500,000 copies, the singer is dismissive of his own success.
"The Gold records represent a day that has gone by. There used to be a time before the advent of iTunes where people had to actually go and buy your whole record. I would like to think that we've made better records since."
The singer has just as much energy during our interview as he does when he's leading thousands in worship to the sound of Friend of God, Not Forgotten and Say So.
"It's nerve-racking for all these records to come out in a year and it be your record [that] wins the Grammy," he continues.
"But when you look at it as I'm just an ambassador, I'm just a messenger and this is not for my glory, it takes a lot of the pressure off."
"We thank God that he's used us and that's what we've prayed: 'Let us be influential, increase our borders,' and he's really done that. But he's done that with the caveat that it all goes back to him."
I'm just a messenger and this is not for my glory
"We can't set up shrines to ourselves and say, 'Look what I've accomplished'. I know people like that and I don't want to be around them. They are annoying people to be around! I don't want to be annoying," he says with a smile.
While few doubt Israel's songwriting gift, his church background is controversial. Lakewood church's pastor Joel Osteen has been accused of everything from prosperity theology to full on heracy and much besides. With 42,000 people attending every week, the church is the largest in America. But when Israel joined in 2001, the number was just 8,000.
Jesus At The Centre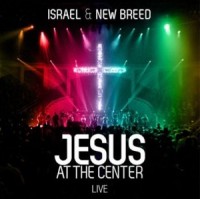 Israel believes the "constant growth" of the church is a mark of a "genuine revival".
"We've just seen God grow right around us. If we ever look back and say 'what's the formula?', we'll have no answers at all apart from we honoured God and we loved people."
His forthcoming live album was recorded at Lakewood and is titled Jesus At The Centre.
"The whole record is about losing the metaphor [of] worship and making sure we're declaring the powerful name of Jesus."
"We've been given some access into the mainstream. Sometimes when you get invited into that world they want you to dumb it down and turn it into metaphor. I can't do that. We're talking about Jesus! I wouldn't be here without him. It's the whole idea of 'stand for something or you'll fall for anything'. If you do it with class and dignity then people respect what you stand for. We've seen that happen."
Looking to the future, Israel sees his music as an, "Extension of the local church". There's talk of setting up extensions of Israel's band New Breed across the world, based in South Africa, Europe and South America.
Cancer healed
Israel has been working with Elevation Church in Charlotte, North Carolina. In January 2012, the church staged 12 nights of preaching and worship billed as The Code Orange Revival. Israel is eager to tell a story from the event.'
"The particular night we were there we were told, 'You've got 90 minutes go for it'. Toward the end I was gauging the interaction of everything. There's a song we do a lot called With Long Life, it's very much a declaration song. The big moment in the song is, 'I will live and not die'. I'm thinking about doing the song and can't land on an answer."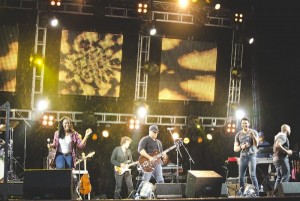 Israel and New Breed
(c) Josh Hailes
"I'm about to do another song and I hear such a strong voice say, 'Do that song'. So we do the song and the computer crashes! So now I know I'm going to bail on the song and do something else. Even then we kept going. I began to sing at the end, 'I will live I will not die'."
"The driver who had been fairly quiet that day, said with huge tears in his eyes, 'Man, I want to thank you for singing With Long Life'. I said, 'Cool' and he said, 'No you don't understand my wife has been diagnosed with cancer this week. It's the second time this has come around. The doctor said if it comes around the second time the chances are not good'. He said, 'When you started singing that song, she was at home streaming it [online]. I called her and she was on the other end of the phone screaming, standing up in the bed singing with us and just declaring over herself 'I will live".
"I was there a couple of months ago and he again said, 'Thanks again for doing that song'. The other day I got a text in big letters saying: 'Brenda is cancer free'. He took that moment at The Code Orange Revival very seriously. To just see this journey over the last 5 months is really great."
If this is what Israel Houghton means when he says he's just "an ambassador - a messenger", then you have to admire the potency of his delivery. Thirty six years after his own radical encounter, Christian music's top cross-cultural artist promises many more awesome – rather than terrifying 'light bulb' moments of genuine revival.
July 12th, 2012 - Posted & Written by Sam Hailes