Chip Kendall the popular singer and rapper, and former frontman of thebandwithnoname has announced the launch of his first full length solo album since the break-up of the band.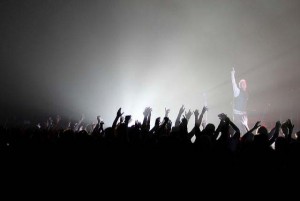 The spiky haired performer, who combines hip hop and hard rock for a driving and distinctive sound, spends much of his time on a packed schedule of school tours, as well as working on a range of books, broadcasting engagements and other Gospel initiatives.
But he still managed to find time to slip into the studio to record his new album 'Holy Freaks.'
Chip said: "I'm really proud of the new album, it's very much a return to the sound of thebandwithnoname, but perhaps with a bit more freedom than we had back then.
"We've been performing some of these tracks for a while on our schools tours – and some of the material draws directly from some of the interactions we've had when we visited schools.
"thebandwithnoname was in schools all the time, and during the question and answer sessions after the concerts, we kept getting asked about science.
"But the thing was, we were just musicians, and I just kept thinking – wouldn't it be great if we had a proper scientist with us to answer this stuff."
Shortly after the TBWNN broke up in 2010, Chip formed a link with Test of FAITH – an initiative based at Cambridge University, which helps bridge the gap between a scientific and faith based world view.
Together they began to provide 'Test of FAITH: Live' shows at schools around the UK, which sees the team use a combination of music, live science experiments, and question and answer sessions to demonstrate that science and faith are not mutually incompatible.
Now Chip splits his time three ways, one third in schools, one third in the band, and the final third working on a venture with Cross Rhythms, helping young people tell their faith stories through Social media.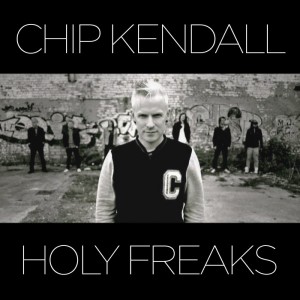 And the 34-year-old father of two, who was born in the USA but now lives in Stockport, Greater Manchester, says the various projects he's become involved in since leaving TBWNN have all fed in to the new album.
From a track inspired by his experiences in East India with the charity Compassion, to tracks which talk about the experiences of young people trying to live out their faith.
There is even a song called 'Evolution' – a title which can sometimes cause worried looks on the face of Church leaders.
Chip added: "We've got this song called Evolution, but it's not evolution as we necessarily think about it – really it's about being transformed to become like Jesus.
"Sometimes when I say 'this next song's called Evolution' you can see the looks on people's faces, but as soon as they hear the words, and realise what it's all about, they love it."
Holy Freaks is out now.
August 28th, 2012 - Posted & Written by Simon Cross