Fresh – New Songs for the Church is a new two disc compilation from Spring Harvest.*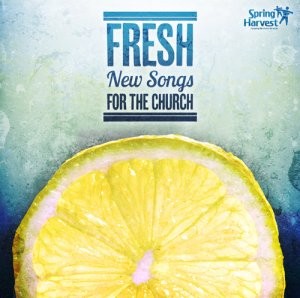 Featuring 22 studio recorded songs from the 2012 songbook, the aim is to showcase the best new songs hitting the church this year.
In terms of song selection, there are no complaints. Matt Redman's We Are The Free, Bethel's One Thing Remains and Vicky Beeching's Break Our Hearts are all stellar choices. Songs by less well known names such as Andy Smith and Pete James are also included.
The producers have done well to select songs that are both popular and full of meaning. In many ways, it's the perfect compilation to showcase the best songs of the past three years (Break Our Hearts was written in 2009).
But the areas this compilation falls down in are the performances and the arrangements of the songs. None of the songs on the CD are originals, rather they have all been re-recorded and covered by Cathy Burton, Sam Cox, Quin Delport and Nicki Rogers.
Each of those artists are very talented singers and songwriters in and of themselves, but when it comes to covering other people's worship songs their performances tend to be unconvincing.
The guitar and keyboard sounds in We Are The Free don't match the quality of the original while Furious and One Thing Remains lack drive and passion.
It's disappointing that the label has chosen to needlessly re-record songs. Elevation already own the rights to some of the songs on the album, making re-recording them an added expense as opposed to a cost saving measure.
As the second disc begins to play, it sounds slightly more promising. Stripping the songs back to acoustic arrangements is a good plan for Tim Hughes and Phil Wickham's At Your Name. But it's Nathan Fellingham's rearrangement of And Can It Be that's the stand out song on the disc. Sam Cox's voice has a soft tone to it that suits the song perfectly.
Israel Houghton's Hosanna (Be Lifted Up) also works well on the acoustic disc. Some great acoustic guitar work from Dan Wheeler and a solid chorus of voices demonstrate the album isn't all bad.
Despite showcasing some top songs, this compilation is a disappointment. Had the originals been collated onto these two discs it would have had the potential to be a fantastic compilation. But with the majority of the arrangements lacking quality and sometimes sounding forced, it's best to steer clear of this CD. The songs themselves may live up to the album title but the majority of the versions you'll hear on this compilation are far from 'fresh'.
Rating: 6 out of 10
*Fresh – New Songs for the Church is no longer available from Eden.co.uk
June 28th, 2012 - Posted & Written by Sam Hailes