Toby Mac is incapable of making a bad album.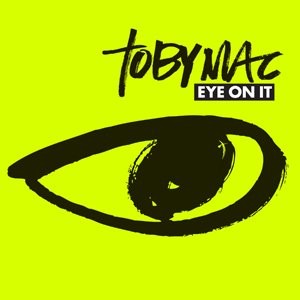 Whether we're talking about his DC Talk days or current solo releases, the singer has demonstrated a talent for writing, producing and performing top quality pop songs that combine rock, rap, hip hop, dance and funk.
It's surprising to learn that with his latest release Eye On It, Toby has released as many albums as a solo artist as when DC talk were together. He shows just one sign of slowing down…his age.
Toby is the possibly the coolest 47 year old you'll ever meet. This album yet again appeals to more than one generation, it even includes a dub-step based title track.
If Momentum was rock influenced and Welcome to Diverse City showcased Toby's hip-hop talents then Eye On It is definitely all about dance.
The album contains at least two obvious themes. The first is Toby's desire for God to be at the centre of his music. Album opener and first single Me Without You is a hypothetical description of Toby's life without God while follow up Steal My Show is a prayer for God to be in the midst of Toby's live performances.
Another major theme – close relationships - comes toward the end of the album. Family is a touching ballad, Thankful for You is dedicated to his friends, Made for Me is about his Jamaican wife and Mac Daddy is Toby's son Tru Dogg's greatest tune yet.
As usual, Toby welcomes plenty of other well-known Christian singers to contribute to the recording. The most notable of the three guests is Lecrae who appears on one of Toby's most radio friendly track, Forgiveness.
The middle portion of the album is slightly disappointing. Speak Life lacks the musical spark that most Toby Mac songs display. Unstoppable has a great guitar riff and the high energy track is sure to be a treat when performed live, but Toby hasn't equaled previous high octane efforts Boomin' and Showstopper.
Closing number Favourite Song is satisfying but not groundbreaking. Perhaps it's unfair to expect a classic closing like Portable Sounds' Lose My Soul but as an artist who has spearheaded, redefined and greatly influenced Christian contemporary music, we shouldn't be afraid to demand outstanding music from the rapper.
Eye On It is in places comparable to Toby's remix album. There's often more dance beats and keyboard sounds than distorted guitars or funky bass lines.
All in all, it's another exceptional album from one of Christian music's most talented and diverse acts. Other artists would do well to take note of Toby's ability to reinvent himself and persue a different musical direction with each album, while still retaining his distinctive personality and style.
Rating: 8 out of 10
September 6th, 2012 - Posted & Written by Sam Hailes