Best known for his wacky children's songs, Doug Horley translates worship into words and actions that connect children to the God who loves them.
Known as Duggie Dug Dug, Doug Horley has been in full time children's ministry for almost 20 years. Playing guitar since age 10 he was writing songs while still in his early teens. "They were truly the worst songs on the face of the planet," he laughs. "It's amazing really that anything came out of that."
Making Worship Fun, Relevant… and Wicked?
One of his more controversial songs includes the lyric 'Great Great Brill Brill Wicked Wicked Skill Skill.' "At the time, the word 'wicked' had changed its meaning from being something bad to something really cool," he explains. "that's why I put those words in there."
"My heart wasn't to cause offence. For me, trying to speak the language the kids can relate to and understand is what I want to do." Duggie listens to a lot of chart music and tries to write songs in the same style: "Using pop music for me has been a vehicle for saying 'let's do something relevant.' What I want to see kids doing is realising what worship is about saying 'thank you' to an amazing God."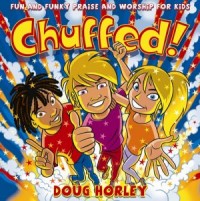 Words and Worship Directly From Scripture
Doug worked with fellow children's worship leader, Ishmael, for what he describes as 'donkey's years' and says he's learnt more scripture from Ishmael's songs than from learning by heart.
"Sometimes," he says, "I'll read a scripture and it will jump out at me and a song will flow out of it. On the Chuffed CD, there are several songs that are just like that: scripture based songs."
"I've got one on Chuffed called 'He Will Make Us Clean' which is based on 1 John 1:9. Some of those songs are almost straight from scripture so I think it's really important."
Writing Songs Specifically for Kids… and Grown Ups
"I'm one of these strange people that writes songs for children, songs for grown ups and some songs that people would say should never be sung by anybody!" he says.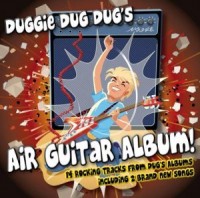 "When I wrote 'We Wanna See Jesus Lifted High' it was before a kids' event. I was praying and had a picture of a banner flying over our area with the name of Jesus on it. The song flowed out of that image."
"I thought: 'I've got a song here that can crossover and be used for adult worship.' Then, as it went across the country, people started putting actions to it! I could not believe it." Doug's one cross-over song became his most successful children's action song. "I had nothing to do with that!" he insists, "it made me chuckle, really."
Flabbergasted: with The Tribe, Lz7 and Mark Read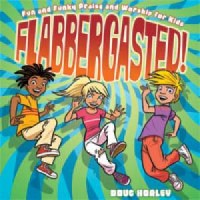 "I really like collaborating," says Doug, "because it adds things to my songs that I wouldn't naturally add. I've done quite a few songs with George Mhondera and Lindz West of LZ7. Both of those guys were in The Tribe and they bring something to those songs that I could never do myself."
"Working with someone like Mark Read of the pop band A1 is great because Mark spends all of his time working in the secular music business. So he brings that pop feel and approach to what we do."
Songs, Books and Backing Tracks that Kids Dig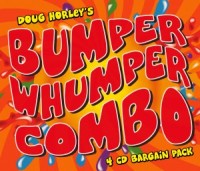 Get more than 40 of Duggie Dug Dug's wildest worship songs - including 'We Want to See Jesus Lifted High' and 'Woopah Wahey' on Doug's Bumper Wumper 4 CD Set bargain collection. This mix-up of high energy dance rhythms and deeper reflective songs gives you a worship, school and party resource for children of all ages.
April 12th, 2013 - Posted & Written by Sam Hailes