Having established themselves as a best-selling Christian contemporary band, Casting Crowns wowed The Big Church Day Out with their unique blend of worship and discipleship focused songs.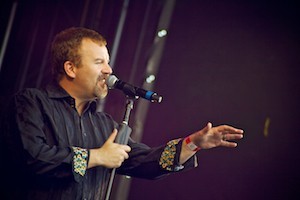 Mark Hall - lead singer of Casting Crowns
(c) Mikey Oldfield
Speaking just before their performance, the band appear pleasantly surprised at their own success. Choosing to only tour the US between Thursday and Saturday so they can be at their home church the rest of the week, the band are clear about their priorities.
Working as youth workers at South Atlanta Baptist Church has helped keep the band grounded. It's rare to meet people who have sold 5 million records, yet the seven members appear remarkably ordinary and down to earth.
"When someone is excited to meet me or wants me to sign something, I know in my heart that God connected with them through a song that he let us write. If they just knew me they'd know I'm a dork like anyone else. I don't have it all together. They would get less and less impressed with me," lead singer Mark Hall shares.
Real-life inspiration
The band's music is often born out of real life experiences. With every song containing a positive and often provoking or hard-hitting message, Casting Crowns aren't afraid to deal with common issues.
"We wouldn't have the songs if we weren't in the church," Mark says bluntly.
"When we sing you a song about a girl, it's about a girl. Slow fade was written because families were being torn to pieces among our friends. Just Another Birthday was a girl in my church whose father yet again did not show up for her birthday. It's everyday life."
When you get out into the world, life is tough. That's what our songs are about.
"We all know what our faith looks like in church, we're all sitting in the same direction, everything is beautiful and life is grand but when you get out into the world, life is tough. That's what our songs are about."
Being so embedded in a local church could present problems for the band's career. It's certainly a surprise that Casting Crowns have maintained such a large following for 13 years, despite spending significantly less time touring than other bands.
"Somehow God is making it all work. We get to go to other countries just 10 days at a time. There's seven of us so the money is thin and we have to fly the cheapest flights but to me it's a miracle we're able to keep doing this ministry," Mark says.
Mark claims to be under no illusions. He seems keenly aware of the problems in the industry he works in. "Some artists sit at home and read the website too much," he says with a smile.
Singing the truth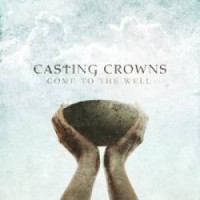 Casting Crown's music stands out. A few minutes after our interview, thousands of people would be singing every word of the band's well-loved songs.
"Because we write our songs to our church, we write our songs to people we know and love, so we speak the truth very plainly. Anytime you teach a lesson on something, God says 'OK lets see how well you're doing that.' Church is a mess. Most of the New Testament is written because they were having to sort out all these issues. 'This was all working great in the upper room but then you people showed up and messed everything up!'"
Mark says the songs tend to start as a subject he has been teaching on. "Somewhere in the teaching will be a re-occurring theme and I'll start saying it from the stage, saying in prayer. I don't think I'll ever sit down and say 'hey I think I'll write a song!' I'm not a machine, I've not got that gift. City on a Hill is a seven year old idea in my head. If I've Ever Needed You was one night.
Putting lyrics first
Whether it's the smash hit Couregeous, written for the dramatic feature film of the same name or the hard hitting Jesus Friend of Sinners, latest album Come To The Well is full of challenging words.
"I'm all about the lyric and the music staying out of the way of the lyric," Mark reveals.
For any Casting Crowns fan, this quote will make sense. It's obvious the band take time to hone their lyrics. They've consistently delivered striking messages through their music. But just as their songs point to God, the band are keen to direct attention away from themselves in interviews too.
I'm all about the lyric and the music staying out of the way of the lyric.
"Just cause you write songs doesn't make you better than other people. Everyone has their thing to do. If they are serving the church it's just as important as you being on stage and singing at church. We're all under the same banner."
With four top albums under their belt and the band perusing what they call the "ministry of discipleship", Casting Crowns are going from strength to strength. The seven band member's honesty in both interviews and songwriting is impressive. It won't take more than a few seconds of listening to the band's music to discover they have much to teach the church. As their music spreads across the globe, so does their message. It's not easy to pack a sermon into four minutes of music. But Casting Crowns make it look effortless.
August 22nd, 2012 - Posted & Written by Sam Hailes