Buying an independent album is always risky. With no backing from a recognised label, you never quite know if the CD will be any good.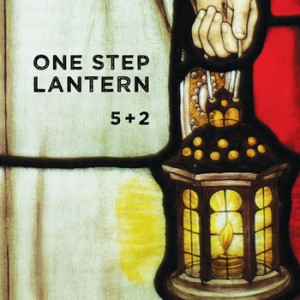 So it was with some apprehension that I inserted new artist One Step Lantern's CD 5+2 into my laptop.
Everything up to this point had been positive. The man behind the name is Birmingham based Oli Nicholls and his CD was well designed.
Opener Reigns Forever is certainly promising. Despite an overzealous bass sound that buzzes through the introduction, the band are together and the production isn't far from the quality of the major Christian labels.
Utilising musical space between lyrics well, the song is well arranged despite feeling a little samey due to lack of musical variation in the verses.
If Reigns Forever was too tentative start then Trust is just what's needed. Up front and in your face the song's vocals are clearer and the drums more confident.
Chorus "Trust in the Lord with all your strength" builds magnificently with tight bass and guitar lines accompanied by a piano riff that ascends as Oli sings "And he will make your paths straight".
Without naming any names, it would make a much more convincing single than some other new worship leaders that are enjoying label backing.
The bridge throws in an unusual, nearly out of place chord that keeps the song interesting before the band launch into one final chorus with that infectious piano riff sounding better than ever.
Good News features a phenomenal organ sound and some great harmonies in the chorus, but overall the song isn't quite as attention grabbing as it could be.
Resurrected continues to pile on the Biblically inspired lyrics. Oli's choice of words is one of the strongest aspects of the release. "For our sinful selves are now crucified on that cross with Christ / And we will be raised / We are resurrected in Christ / Hallelujah" does well in making complex theology easy to understand and sing.
The instrumentation is simple, but with a catchy tune and thoughtful arrangement, it comes across as a very strong song.
The lyrics of Magnificat have been cleverly lifted and occasionally re-interpreted from Mary's prayer in Luke 1. The NIV's "His mercy extends to those who fear him, from generation to generation" is re-written as "His mercy comes in wave upon wave on all who stand in awe". Light strumming of two acoustic guitars, a soft and interesting drum beat and even some strings in the bridge result in another great song.
Shine Jesus Shine is a title only the bravest of musicians would put to their song. No, it's not a Graham Kendrick cover. It's actually a pretty good song that starts soft and builds into an anthemic chorus.
Amazing Love is another contender for a great single. "God did not send Christ to condemn / Through him we are saved / He is the way and the truth and the life / Jesus lifts us from the grave" is the chorus. It's heartfelt and honest.
Sing To The Lord has a rustic acoustic feel similar to some of Gungor's recent work while Rejoice is more typical of modern worship music, albeit with some pleasant vocal parts.
Final track The Lord Is My Light and Salvation is a superb ending to a truly excellent album.
It's hard to believe Oli has managed to put together, market and distribute 5+2 independently. Clearly a wonderfully gifted singer and songwriter, Oli's music deserves to be heard by a much wider audience.
You heard the name One Step Lantern here first. Surely it won't be long before a record deal is on the cards. This is the most promising and entertaining debut album I've heard all year.
Rating: 9 out of 10
June 21st, 2012 - Posted & Written by Sam Hailes