Mumford and Sons Marcus caused a stir with the words 'I wouldn't call myself a Christian'. But do the labels we use matter?
Recently you may have seen British band Mumford & Sons on the cover of Rolling Stone music magazine – but right now in Christian circles you're probably more likely to hear one quote from the article than to have read the entire thing. The quote that has some people complaining is as follows:
'I wouldn't call myself a Christian' Marcus Mumford.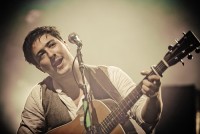 A post on God Sees Diamonds; Gerard and Chrissie Kelly's tumblr blog, reminded me how easy it is to criticise someone when you're not walking in their shoes.
So does it matter what labels we hang around our necks?
The short answer is Yes, and as Christians we should be prepared to come under scrutiny once we declare who we are… but we shouldn't forget how tough a place that is to be. I remember the ramifications of telling people at school I was a Christian at a time when I had no real idea what that meant. Yep I'd put up my hand stepped forward at an event, I was extremely excited about telling people, but I wasn't prepared for what followed and I was pretty much ready to deny anything in order to go back to how things used to be with some of my peers. Thankfully I'm not alone, Peter denied Christ 3 times and yet was the Rock of the Church.
The world is watching Marcus Mumford, many know of his Christian upbringing and are ready to jump on the slightest step out of place. In another quote from the article he states 'Jesus is Awesome' and for anyone who has listened to a track by Mumford & Sons it's difficult not to hear the threads of scripture and faith woven into the lyrics. So maybe he's not ready to wear the Christian label, maybe he'll never use it in the public arena and although I'm no authority, for me that's okay. It doesn't mean that many of his lyrics won't point the way to a risen Christ or that he doesn't have a personal relationship with Jesus. It just means that right now he doesn't want to do it publicly and for many of us there has been a time when we didn't want to either and we didn't stand at the top of the musical world stage, with fingers pointing and people staring. When it comes right down to it, it's more about how we live rather than what we say, that really shouts about who we are.
Regardless of the label I'll still be enjoying music by Mumford & Sons, but if you're looking for groups with a similar musical style, happy to wear the cross front and centre why not try
Rend Collective
or
Rhett Walker Band
(my favourite debut album of 2012). If this is the first time you've heard of Mumford & Sons, have a listen to 'I will wait' from their second album Babel – I think you'll enjoy it.
March 31st, 2013 - Posted & Written by Jo Pountney