Cris Rogers describes himself as a pastor of a "boring, middle of the road Anglican church". He's dismissive of the fact he's the author of more than one highly acclaimed books. And more than not caring that his church in Tower Hamlets is invisible to most of the Christian world, he revels in his own anonymity.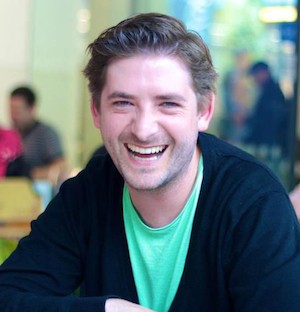 I suppose you could give him ten out of ten for honesty, but perhaps not marketing. His central message is that he's nothing special and any Christian can do what he does.
'Jesus was so intriguing to me'
The story starts by Cris reading the gospels at the age of 16. "The Jesus I found was so intriguing to me, so appealing, so counter-cultural. I got converted by Jesus by reading the gospels."
"Jesus never wrote a book. He never wrote a gospel or a letter. The reason he didn't do that was the good news was never meant to be read, it was an experiential thing. It was his disciples that wrote it down. It was always meant to be something we engage with. We've turned the Bible into a book that we read, not a book that we experience. That is the biggest problem that we've created for ourselves."
The practical, hands-on message that Cris discovered in the gospels has effected his ministry ever since.
I got converted by Jesus by reading the gospels
"I went to train to be a youth worker and when I left trinity college in Bristol I went to Birmingham where I became a youth worker."
"I was walking from the church down to where I had moved in and realised the church car park had just been tarmacked in recent weeks and there were some kids skateboarding. One of the members of the church came in and shooed them off. I had been skating when I was in Bristol and thought, 'can I use this to my advantage?'"
"We literally got some little small bits and pieces from Argos and very quickly we started getting 25 young people along. We set it up on a Saturday so young people could come and skate. On one occasion we had a skate competition and 120 teenagers were all around this church car park. It literally happened by accident. We had 21 young people who came from the skatepark who came to faith."
Following Jesus
Cris says one of the biggest lessons he has learned is, "wherever you are is a ministry opportunity."
"It could be a really nice area or a really grim area, everywhere is a ministry opportunity and the question we have to ask is: 'What is the Lord doing and how can we partner with him in what he's already doing?' We're not trying to do anything that will get any attention, we just want to get on with serving the king."
What happened next was a surprise. After five years of what many would call great success, Cris had a frank discussion with his bishop.
"The more I read the gospels, the more I kept finding Jesus lingering in the ambiguous places and hanging out with the people that he shouldn't be with. I find that so interesting. We said to our bishop 'we want to go to the area of town where you can't get a young evangelical to go, to a church you're thinking of getting rid of.' He pointed us to All Hallows which was a church with a congregation of seven and the local Mosque were interested in buying it. We saw this place and it really broke our hearts because it was a place where so much had been possible but nothing had ever been realised."
"It was a really tough area and that's where the church needs to thrive. It was a great building in a really great location, right in the heart of one of the poorest estates in the east-end of London. It was an abandoned church and didn't know where it was going and had no vision."
One person's comment that Cris would be "killing" his "Christian career" by going to the church only cemented the pastor's resolve. "It was a ridiculous thing to say," Chris remarks.
Bog standard church
18 months in and Cris says it's "liberating" to be in a place where no one is watching. "There's no branding, there's no nice name. No one is saying 'wow that church has a story that everyone is interested in'. We're just a boring bog standard Anglican church in the middle of a tough estate and I love that."
But Cris does agree that All Hallows is bucking the national trend. The congregation is full of 20-somethings and growing fast. Each Alpha course has had five or six non Christians who have been eager to learn more and membership has increased from seven to now pushing 100.
Pitch up, move your tent in, become local and live out the gospel
Partnering with the Eden project, Cris has encouraged 20-somethings to "pitch up, move your tent in, become local and live out the gospel." He wants to break the consumer cycle and short term outlook held my many young professionals. And it appears to be working.
"Last Christmas we had a couple of members of our church going around the estate with envelopes with cash in them and they were sneaking envelopes into letterboxes of families that we know on the estate who were struggling financially at Christmas. It's been great to see folk who really understand what the gospel looks like. It's practical as well as spiritual and they are doing it."
August 16th, 2012 - Posted & Written by Sam Hailes