Youth for Christ director Gavin Calver isn't just passionate about seeing responses to the gospel, but seeing the prodigals return home. It's why him and his wife Anne have written Stumbling Blocks – a new book dealing with reasons why people leave their faith behind.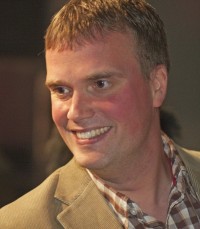 "It's incredible how many adults and young people give up for silly reasons." Gavin says bluntly, adding "we'd had enough of it."
Gavin's directness is evident both in our interview and his book. "The book is very honest and direct and we're very vulnerable. This is how it is and life can be rubbish but you keep going because God is there with you."
Gavin is angry at how the "nonsense" of prosperity teaching makes people believe that once you follow Jesus everything will be fine. "It's just not true", he says.
"As an evangelist myself I make it really hard for people to become Christians. It was Bonhoeffer years ago who reminded us of the dangers of cheap grace making Christianity so easy to join it's easy to run away from too."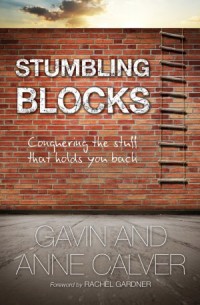 "We can often tell people the gospel we want them to hear but Jesus asked them to give up everything and follow them. I wouldn't want to comment on anyone else's ministry but I know in my own I will be accountable to the Lord for the way I have evangelised. Therefore I want to make sure it's thorough and has been the full counsel of God rather than what people wanted to hear."
Tackling specific issues, Gavin and Anne want to prevent Christians from falling away and help those who have lost their faith, rediscover God.
Everything from over-familiarity with the church, to death and idolatry is covered. "We don't want to deny the power of some of these experiences but we want to say it's possible to get up and keep going," Gavin explains.
"In the book we refer to the 1992 Olympics when Derek Redman is on the floor. He ran the 400m and was favourite for the medal. After 150 metres he tears his hamstring and is on the floor. He's never going to win the race but he's got a choice. Is he going to stay on the floor like most people would do? He gets up and limps on because he's trained for four years, this is his life. He's not giving up that easily."
"A guy jumps through security and helps him to the finish line. People don't realise at the time but that's his Dad. Are you prepared to get off the floor and limp on? Jesus promised he'll be with us. How do we help people keep going and moving on?"
Keen to get the message out, Gavin encourages people to buy two copies of Stumbling Blocks - one to read themselves and one to give to friends.
"You should never give a book to a non-Christian you haven't read yourself and everyone knows someone who has been in church and left. Read it and think who can I give this to? We take no royalties from the book, it all goes back to Youth for Christ because the whole point is we raise money to tell people about Jesus."

September 17th, 2012 - Posted & Written by Sam Hailes