A Church of Scotland missionary has received a special award – in her adopted country of Pakistan.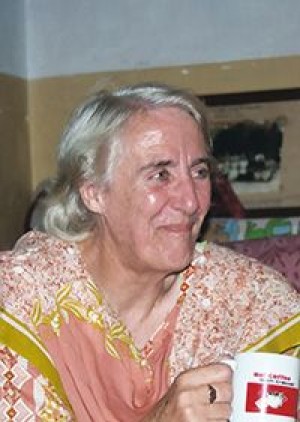 Catherine Nicol, who moved from Scotland to 1961, and went on to serve there for 40 years, has been honoured for her work with the education and nurture of girls and young women.
After returning to Scotland to take official retirement in 2001, the redoubtable missionary then returned to Pakistan, where she continues her work in the Sialkot area to this day.
Now she has been awarded a medal from the President of the Islamic Republic of Pakistan.
The Tamgha-e-Quaid-e-Azam, or Medal of the Great Leader, is a civil award conferred by the Government of Pakistan on those who have attained academic distinction in the fields of science, art, literature, or distinction in the fields of sports and nursing; or for rendering dedicated services with selfless devotion in human rights and public service.
Catherine was also awarded an MBE in 2001, case "for services to the local community, Sialkot, Pakistan".
Andrew McLellan, Convener of the Church of Scotland's World Mission Council, visited Pakistan in 2011 and witnessed first-hand the work that Catherine does.
He said: "She lives in a girls' hostel, St Columba's RTC. I sat at her table and watched an unstoppable flow of people coming in and out all day with problems, questions and requests.
"These were not trivial matters: often the safety of a very vulnerable child was at stake. With patience and cheerfulness and in flawless Urdu (as far as I could tell) Catherine listened, thought and acted - over and over again.
"This is very exciting for us as this is a very high level of recognition indeed and the whole Church of Scotland should be celebrating this. Catherine left for Pakistan in 1961 and the sacrifice and contribution she has made to the lives of generations of people in Sialkot should not be underestimated.
"She did try to retire and move back to Scotland but found it impossible. That shows you the dedication she feels towards the people there."
Wajid Shamsul Hasan, the High Commissioner for Pakistan in London, said: "We are very proud that Catherine Nicol has won this award. We need more great people like her and there can be no doubt that the contribution she has made has been immense, irrespective of one's religious beliefs."
The Church of Scotland's presence in Pakistan goes back more than 150 years when the first Scottish missionary, Reverend Thomas Hunter, travelled with his wife Jane Scott and their baby son to Sialkot in January 1857.
The Hunter family were killed during the Indian Mutiny later that year, but they are commemorated at Hunter Memorial Church in Sialkot, a growing a vibrant place of worship to this day. Scots returned to Sialkot in 1861 and the Church of Scotland continues to be involved in education, health care and building the local Christian community.

September 5th, 2012 - Posted & Written by Simon Cross