The founder of the Israeli Committee Against House Demolitions (ICAHD), Jeff Halper will be appearing in London today to speak about the rebuilding of an Israeli family home and peace centre, Beit Arabiya which was destroyed this year for the fifth time in 15 years.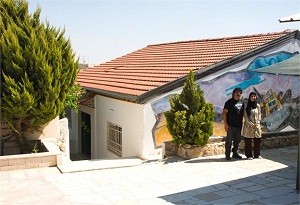 Beit Arabiya
Mr Halper will also be addressing house demolition in Jerusalem, a controversial tactic used by the Israeli Defence Forces (IDF) against Palestinian and Israeli settlers.
Salim and Arabiya Shawamreh dedicated their home as a centre for peace in the memories of Rachel Corrie and Nuha Sweidan, two women (an American and a Palestinian) who died resisting home demolitions in Gaza.
Today the peace centre at Beit Arabiya- or "Arabiya's House" is run by Jeff Halper's organisation ICAHD. The house has come to symbolise Palestinian resistance to house demolitions and unity between the Palestinian and Israeli communities. Its demolition sees three families displaced, including Salim and Arabiya Shawamreh and their seven children.
ICAHD have vowed to rebuild the centre once again as an act of non-violent resistance to the Israeli Government's policy of demolishing Palestinian homes in Jerusalem. Jeff Halper said:
"We shall rebuild, and we must rebuild, as an act of political defiance of the occupation and protracted oppression of Palestinians."
The event taking place in London today is also being supported by the Amos Trust and Greenbelt Festival, and forms part of a UK tour to raise money to rebuild Beit Arabiya. Jeff will be speaking on the story of Beit Arabiya and its subsequent demolition, as well the facts on house demolition in Jerusalem.
Official IDF explanations claim that house demolition is used as a counter-insurgency measure to stop militant operations and deter terrorism in the occupied territories. Human rights groups, including the United Nations criticise the tactic, saying it violates international law.
Beit Arabiya will be rebuilt next summer by both local people and international volunteers.

April 23rd, 2012 - Posted & Written by Riyaza Rodriguez