In the second part of our interview with Author and radical communitarian Tobias Jones, we ask why a woodland - and what about the safety of his children? [Read part one here]
So after all his experiences, what led him to choose a woodland shelter, rather than a farm (like Pilsdon) or some other form of community expression?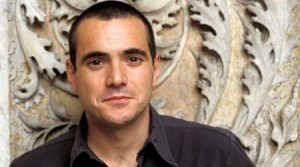 Author Tobias Jones has set up a woodland shelter, but is it a safe place for his children?
"We wanted to run a woodland shelter for various reasons. I've milked cows at the crack of dawn and trees suddenly seemed very attractive.
"There are fewer vets' bills in a woodland operation, fewer animal emergencies. A woodland is more aesthetic than an open field, I think.
"Also, being an Anglo-Italian family we often go back to Italy, and it's easier to leave trees than a herd of cows.
"That said, we do have ten pigs, a dozen chickens and two beehives, so going away is not that easy.
"Also, I've long thought that creative manual labour - not just chopping wood but carpentry, wood-turning and so on - plays a huge part in recovery, and we wanted to have a ready supply of our own wood.
"We make chairs, tables, benches, handles and so on here, and the pride of peoples' faces when they've successfully used the pole lathe or the shave horse is wonderful."
What about the children?
One of the key questions, or criticisms of this kind of lifestyle choice, has to do with children – is it really a responsible or safe way to bring up young children, in the midst of chaotic and damaged individuals?
"I would say that our children, certainly the older two; they're 7, 5 and 2, probably know more about bereavement, addiction, sorrow and so on, than most teenagers on the cusp of adulthood.
"You might say that's not a good thing, but they're growing up surrounded by the back-end of addiction, learning about drink and drugs and death in the most healthy place and in the most mature way.
"They're having meals every day with people who talk openly about what they're going through. They're non-judgemental, they're kind and sensitive.
Our children... probably know more about bereavement, addiction, sorrow and so on, than most teenagers on the cusp of adulthood.
"They know we always lay an extra place at the table because someone might turn up. They understand radical hospitality. That, to me, is a far better lesson that much of what passes for Sunday school.
"And, as those deeper lessons sink in, they find there's a man with no teeth who'll teach them a great card game; there's a man with a huge beard who'll teach them the harmonica; a woman turns up and teaches them a little bit of Hebrew; another Welsh; someone encourages them to learn a new recipe or introduces them to a new pet.
"Their horizons are exponentially expanding and their lives are greatly enriched. It's true, of course, that our only real worry about doing what we're doing is the welfare of the kids.
"We're phlegmatic about theft and dishonesty and lack of sleep, but we're very protective of our children. But because we're explicit that this is our family home, guests appreciate that noisy, boisterous, whiney children are part of the package, and they usually treasure them."
In it for the long run?
In the long term though, is this really a sustainable way to live as a family, can he foresee this being life for the long term?
"Possibly. Possibly not. I don't know. It is exhausting. I often get up at 4 or 5 am. to start the day job simply because that's the only time I can get some peace and quiet.
"It is often gruelling dealing with three children and five quite troubled adults. A former warden at Pilsdon once came up with the eloquent line that Pilsdon is about "sustainable vulnerability" - about being always vulnerable, but not so vulnerable that obliteration is a danger.
We've come close to collapse a few times
"We've come close to collapse a few times, physically and emotionally, but are blessed by wonderful volunteers and supporters and a very wise bunch of "consiglieri" [counsellors or advisors] on our management committee.
"Since we're going back to live in Italy at some point in the future, it may be that that will be the time to pass the baton of woodland warden on to someone else."
Tobias Jones is the author of 'The Dark Heart of Italy' a bestseller about life in contemporary Italy; Utopian Dreams and Blood on the Altar, a book about a real life murder investigation. He's also written two crime novels; with another due to be published in the spring of 2013. All are published by Faber & Faber.
REQUIRES LINK BACK TO PART 1
September 10th, 2012 - Posted & Written by Simon Cross