While Street Pastors and Street Angels are becoming a regular part of many urban British landscapes, only one town has dedicated Beach Pastors – Whitstable in Kent.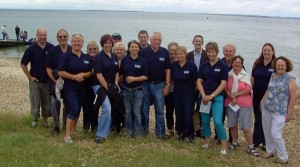 Volunteers gather to patrol the beach, whatever the weather
Every Friday, a group of dedicated Christians gather together to patrol the beaches of their local area, not to preach or prevent fun, but to offer support and friendship to those they meet.
The scheme is a great example of churches working together, to meet a common need, as the team of pastors has been established through the support of all fourteen of Whitstable's Christian congregations.
Based on the successful model of the Street Pastors schemes, the range of support offered by the trained Beach Pastors may include handing out practical help, in the shape of bottled water, or free flip flops, or helping under the weather party people find a taxi.
But sometimes it's about providing a listening ear too – and being there to support people who find themselves in crisis.
"It's a fantastic thing having this common vision," added the Rev Helen Letley, Minister of St John's Methodist Church. "This is about discipleship in action and demonstrating who we are as Christian people, so offering God's love in terms of active assistance."
The scheme was set up after local Christians recognised a specific problem with youngsters drinking on the beaches at night, and putting themselves in vulnerable positions, with a combination of alcohol, darkness and strong tidal currents.
Lee Russell, co-ordinator of the schemer, said, "We are really grateful for the support of all the churches working together, in providing pastors, members of the prayer team, and financial backing."
"My dream is that this is a good news story in our town," said the Rev Steve Coneys, Team Rector at Whitstable. "This is something which round the country seems to be received as unambiguously good news. Ordinary people get this."
Whitstable's 20 volunteers range in age from 35 to 70, and are made up of a variety of 'ordinary people' including supermarket workers, a project manager and a police officer.
But Whitstable residents will be hoping that these ordinary people can achieve the extraordinary, as other Street Pastors schemes have done. In Lewisham, South London, a 30 per cent reduction in street crime has been put down to the presence of Street Pastors in the area, as has a nearly 95 per cent drop in nearby Camberwell.
If such success is mirrored on the beaches of Whitstable, it may not be long before Beach Pastors can be found all around the country.


August 28th, 2012 - Posted & Written by Simon Cross