The man who set up a controversial post-rapture pet care scheme - has admitted it was a hoax.
The website: www.eternal-earthbound-pets.com claimed to have a team of atheists in 27 North American states who would look after a Christian's pet in the event of the second coming.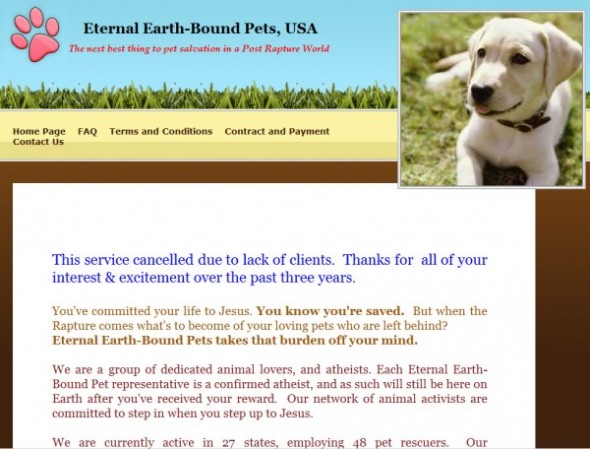 The site became the centre of much media attention when Televangelist Harold Camping made his ill fated prediction that the world would end in May last year. But its founder Bart Centre, who lives in New Hampshire, has now admitted that the site never attracted any clients.
Writing on his blog this week, Centre said of the site: "It has no clients. It has never issued a service certificate. It has accepted no service contract applications nor received any payments — not a single dollar — in the almost three years of its existence."
Centre had previously claimed to have 250 clients paying $135 each for his service.
"It wasn't until the New Hampshire Department of Insurance said, 'Hey, we'd like you to come down and discuss insurance policies I said, 'Whoops, it's time for me do something,'" Centre said.
Asked yesterday why he had announced the service, Centre said he considered it a "social experiment...How much do believers really buy into this?...How committed are they to their pets? How much do they trust atheists?"
He also said the venture was a "poke in the eye" to believers in end-times theology and a means to increase interest in his self-published book - The Atheist Camel Chronicles.
Centre said just two Rapture believers contacted him to sign up for his service. He claims to have told them he didn't have a rescuer close enough to their area to make a commitment.
But Richard McCaffrey of the compliance and enforcement counsel who has accused Centre of conducting an "unauthorised insurance business", said the investigation is continuing because of what he considers Centre's contradictory remarks.
"He was either lying to the newspapers or he's lying now," said McCaffrey.
March 22nd, 2012 - Posted & Written by Sam Hailes