Sometimes I don't choose which articles I write, everyone else does!
And when the marketing team saw this new Bible by bestselling author of 'The 5 Love Languages', Dr. Gary Chapman, all eyes were on me. Why ... because I recently got down on one knee and proposed to my girlfriend (and that obviously means I'm the person who needs help).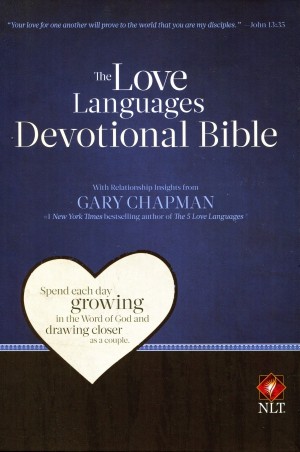 I love my job, so I accepted the NLT Love Languages Devotional Bible with a clenched jaw. My fiancée has read Gary's bestselling book (and made me do the test at the back) so I decided not to tell her about this article. Each morning for one week, I will read this Bible and it put into practice. At the end of this hands-on trial we'll see how much I've learnt, if my fiancée notices any relationship improvements and whether this Bible helps a 24 year old, typical closed-off male. Let the trial commence.
Monday Morning: As I spooned mouthfuls of hot, sugar-coated porridge I began in my favourite book of the Bible – Luke. I was reminded of the Christmas narrative and encouraged to read it through with fresh eyes, as a believer who has the opportunity to retell this amazing story. Then I prayed I would be reinvigorated by the wonder of the Christmas story and have opportunities to share it with people.
No relationship advice yet, but I did text Rebecca (my fiancée) about an interesting discovery I made – there's no donkey in Luke! Where did the donkey come from?
***Tuesday morning was a mad dash to work, leaving the Bible by my bedside. Wednesday and Thursday morning evaporated. Friday morning my sister phoned and my weekend was buried by wedding planning. So we re-join my weak attempt at morning devotional reading a week later***
Monday Morning (again): I read Luke 6:27-36 (Love Your Enemies) appreciating the easy-going, smooth language of the New Living Translation that made Jesus' words sharp and challenging. Gary's short devotional reminded me it's easy to love my fiancée, seeing as she loves me back. But loving those who don't reciprocate it is, well, that's supernatural.
"God wants to express His love through you. Will you give Him a chance to demonstrate the power of love?"
Knowing Rebecca was on her way to work I sent her an extra long text (compared to the usual bland, one-liner text conveying very little). I also prayed for supernatural love to wash my housemates dirty dishes when I'd rather give the annoyed glare and do more than just simply smile at the man who walks past my house every morning.
***Another week passed and the spirit was willing(ish), but the flesh was weak. The NLT Love Languages Devotional Bible was sitting on my bedside table longing for daily attention, but this unmotivated man was struggling. 2½ weeks later...***
Wednesday Morning: I put the Bible in my bag and hopped on my bike (thinking I might actually read it at work, possibly). The next devotional was very insightful and topical for my work life. The passage was Jesus healing the women in the crowd. Jesus loved in the interruptions, and Gary encouraged me to not view an interruption as a nuisance, but as an opportunity to love.
When it came to writing up this article I had read a few more of Gary's devotionals and sent a few more texts – not what you'd call life-changing. When I eventually revealed the Bible to my fiancée she said, "why did you do it by yourself, we should have done it together".
It seems I've completely missed the purpose of this Bible. It's not for one person to read on their own and struggle to increase their capacity to love. It's a two-person journey.
"The important thing is that the two of you are reading the Bible, talking about your relationship, and learning to love one another more deeply – following the example of Christ." – from the introduction of the NLT Love Languages Devotional Bible.
With daily devotionals, weekend Bible studies, 'What He Needs, What She Needs' articles and a topic index, you'll find plenty of material for joint spiritual growth. I confess, no "man" will likely buy this Bible, but I can assure you it's written with a genderless voice and covers more than just expressing love – from money management to sex, communication to work and even the in-laws.
From a practical perspective this Bible is well formatted, and has the very generous 11pt font size. The only real niggle I have is the Hardback Edition doesn't have a ribbon marker, which is highly useful when reading the Bible devotionally. But saying that the Imitation Leather Edition has one, which also looks great.
For couples who want to ingest the Bible together, discuss what they read, engage in meaning conversation, pray more together and nurture each other's faith – this is a valuable investment into your relationship. It's not a marriage counselling book, or a formula to create a functioning relationship (or a clever scheme to sculpt a shiny, perfect partner). It's simply Gary Chapman's way to encourage couples to read the Bible, pray and grow together.
February 10th, 2013 - Posted & Written by James Warwood