The Old Testament account of Hosea's marriage to Gomer is a lived out parable of the love between God and his wayward people, and the inspiration for Mesu Andrews latest biblical novel, Love in a Broken Vessel.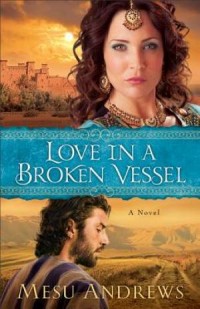 In Love in a Broken Vessel, Mesu Andrews, weaves biblical history, eternal truth and human emotion bringing vividly to life another woman of the Bible whose life is touched by God and used to demonstrate his relentless love for our broken world.
Thorough Research and Imaginative Voice
Thoroughly researched and sensitively retold, this is the Bible story about a woman twice redeemed by the love of her husband.
Instructed by God, the prophet Hosea rescues and marries the prostitute, Gomer. She gives her him 3 children before abandoning them all and sliding back into her former life. But Hosea doesn't give up on her. He goes searching for her and expensively buys back the wife that is already his.
Hosea's relentless, redeeming love for Gomer is the prophetic message of God's love for his nation, his people and their destiny. In her imaginative, expanded retelling of the Bible story, Mesu makes the original real and relevant for today's romantic fiction readers.
Authentic, Biblical, and Emotionally Rich
The depth of Mesu Andrews' research and love for her subject is evident in the wealth of historical fact and theological argument she squeezes into each of her Bible based romances. Her attention to detail and care for her readers is shown in the many thoughtful touches that made her previous books (Love Amid the Ashes, and Love's Sacred Song) such exciting and sensitive reads.
Through her novels, lovers of faith based romantic fiction and devotees of Bible based retellings rediscover the intense relationships of the original stories. To make the Old Testament accounts relevant even to readers with no biblical knowledge, Mesu's books include charts and notes to open up the historical and political background of ancient times.
Chapters begin with the Bible reference of its scriptural source, and named characters are listed to make them easy to locate and follow as the story unfolds. The wealth of biblical and historical detail adds authenticity to a romance with its roots deep in the world of the ordinary people.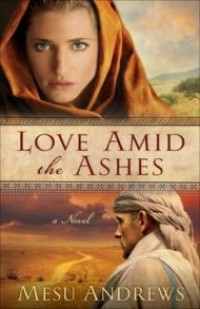 The author's use of authentic language and words add to the truthful feel of the novel, though always introduced in a context that makes them easy to understand and remember – such as the symbolic meaning of the names Hosea gives his children. This level of care ensures that even readers with the scantest biblical knowledge are never left out of the picture.
Impassioned Retelling with Biblical Truth
Writers of Bible based fiction tread a fine line between telling the truth and telling a gripping tale. Although Love in Broken Vessel has characters created by the author and personalities the Bible only sketchily draws, Mesu Andrews maintains a love and respect for the source material and for her readers. This retelling opens a new window on the truths of the original story, and offers a way-in for readers with little or no Bible knowledge.
April 4th, 2013 - Posted & Written by Les Ellison