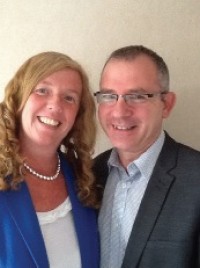 We would like to wish our Together readersGod's richest blessing for this new year. We are sure there will be many challenges to face in 2015 in an industry that is changing every year. But we can be assured that God is in control and by our side as we face these challenges. Revelation 3:8 says, 'See, I have placed before you an open door that no one can shut'. What a promise! The root meaning of the phrase 'open door' is 'opportunity'. At the beginning of 2015 we can take heart in the opportunities that lie ahead of us. Perhaps we need to create new opportunities in order to enable us to increase our footfall this year.

From frames to Food Banks in Lisnaskea

One such Bookshop Manager is Val from the Oasis Bookshop in Lisnaskea and we have enjoyed a long and happy relationship over the years as we have visited her little bookshop in Co Fermanagh. She says, "It's hard to believe that it is now over 26 years since we started in business in Lisnaskea with a bespoke Picture Framing service, which was closely followed one year later with the Oasis Christian Bookshop, serving the community both spiritually and in ministry.

"So much has happened since dedicating our lives to serve God and watch him taking control over the everyday running of the business. After ten years in business and, with God's help and provision, we extended the premises to double the size, thus being able to extend the range both in the framing department and the bookshop. Two years ago we were praying and seeking God's guidance as to how we could reach out to the community in the midst of the recession. A year ago the Lord give us direct confirmation to open a Food Bank aptly named The Pantry – "A helping Hand" with the scripture from Zechariah 4:10, 'Do not despise these small beginnings as the Lord rejoices to see the work begin'.

"God supplied our every need to furnish, decorate and fill the shelves with non-perishable items to give to those who were struggling to meet the everyday bills. We have given out hundreds of food parcels, which also includes a daily reading making sure they have food for both the body and soul. The growth of the business and The Pantry has not been due to any ability we might possess but our availability to be used by God. Each stage of the journey has been empowered by God and is a wonderful witness to Lisnaskea and the surrounding areas. We praise God for what He has done and look forward to seeing what He is going to do because His work is never ending."

Unexpected answered prayer in Newton Stewart.

Another Bookshop Manager with a burden about her local community is Janette Tait from Cinnamon in Newton Stewart, Dumfriesshire. She shared her story with us:
"I grew up in a loving Godly family home where Jesus was central. I did all the seemingly right things even going to teach in Papua New Guinea as a young woman. I never for one moment thought Jesus was not in the things I chose to do. Then marriage to Angus, a non-Christian, went horribly wrong despite three lovely children. After twelve years my husband became a Christian and we began to get our lives back on His track. I began to question whether I should even be a teacher. One Monday morning I cried out "Oh God make it clear." Three days later I was asked if I minded leaving (in the nicest possible way of course!).
"That led to what should I be doing? One morning I was in a decorator's shop in our small town of Newton Stewart when in my spirit it changed into a Christian bookshop with coffee shop and a room with lots of teenagers. So began my prayer for the facility in the street which I hoped was for someone else to do.

Then came the realisation that the picture was for me to do. Prophetic people began to come through confirming what I had seen. God said to start with the bit I could do, so, like many others, the shop began with a box of books from a spare bedroom. A few years later Angus left the Forestry Commission and we moved into the town and the ground floor of our three storey house became a larger shop
"The Lord said the town shop yet to be was 'the church on the street being the church but not the church'! Every small shop that became vacant I checked out, but it was never right. God said I wasn't thinking big enough. His choice was an ex old type supermarket store. There is a long amazing story to our buying this, but there were many incidents and miracles along the way that showed He was very much in this purchase.

"I am usually led with scriptures, so many of these were about taking the land. The fight to take and the fights to keep it. No one chooses to re mortgage a home at the age of 60 without a God call. We had no business experience and many mistakes were made in the beginning. A friend who had wanted to come in with me set up the café side but for various reasons she leftat the end of the first year. Angus and I were left with a huge loan to service but seven years on we can say God is always faithful. We have huge overheads and seven paid staff on the payroll of varying hours.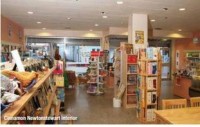 Prayer answered - before it was asked

"Two years ago in January I said to the café staff who are not yet Christians that I had concerns about paying the bills and their wages the following week. They continued their work with the comment 'well God has never let you down yet has he?' So true! The final Thursday of the month we were totally out of money and felt led to transfer the last of our savings across to the business. Within five minutes of that action there was a knock at the door and a cheque for £5,500 given to us. The giving lady had travelled thirty miles to bring it at that moment on the day of need. 'Before they even call to me I will answer' springs to mind. This has happened many times over the years with varying amounts given.

"Like many other shops we are experiencing a down turn in the sales of books, CDs and Christian products. In this last month many have passed through our doors. Visitors to
the town, who are pleased we are still open, locals, the hurting, the alcoholic, the suicidal and depressed, the cancer patients and the bereaved, school children for religious
studies, the famous actor who is on his spiritual journey looking for truth and the Christian TV producer in the process of making a film based on a character who once lived here. A coffee shop is an easy place for some to come to share their hurts. The ongoing fight to stay here remains.

"As I write this I have stopped to pray with a lady with mental health issues. I may be unsure of our future but I am sure of the One who leads us. We still have not developed the upstairs into the suite of three rooms I saw although teenagers flock in at lunchtime for their takeaway. I am waiting for a young man Manager to come although I haven't a clue how I would pay him. In the earthly sense what we are doing is crazy. The figures just do not add up. When speaking to God of current needs last week He gave me an even bigger picture than what I have previously seen. Again it makes no sense at all but I am reminded that all we need to do is be obedient. 'The One who calls us is faithful and He will do it.' For 'He is able to do abundantly more than we think, ask or imagine.'"
February 16th, 2015 - Posted & Written by Together Magazine