A church in Wales has stepped in to run a community library, after the town's mobile library service was axed due to government cuts.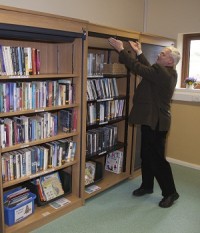 The Library is opened by the Venerable Philip Morris
Parishioners in Ewenny and St Brides Major in the Vale of Glamorgan, Wales, are to help run the new community library, with two members of the St Brides Major Church Council serving as chief librarians.
At the end of last year, the mobile library that served the community was closed down, following local government spending cuts. This new initiative spearheaded by the St Brides Major church will provide library services to members of the community who often have difficulty accessing the town's main library, such as the elderly. It is also hoped it will serve as a community meeting place where local people can have a cup of tea together.
The Archdeacon of Margam, the Venerable Philip Morris who is also priest-in-charge of Ewenny and St Brides Major opened the library at the official ceremony last Saturday. He said: "The Community Library is a great example of the Church putting the 'Big Society' into action by empowering communities to take responsibility for those services that are no longer being provided by local or national Government."
The official opening event was attended by various local political and civic leaders from the area, including the leader of the Vale of Glamorgan County Council and a representative of the Mayor of the Vale of Glamorgan, as well as more than 150 local people.
Andrew RT Davies, leader of the Conservative Group in the National Assembly who attended the opening said "It is incredibly heart-warming to see such enthusiasm and initiative from the local community."
Plans are already in place to develop a Library Club for children in partnership with St Brides Major Church in Wales Primary School.
March 20th, 2012 - Posted & Written by Riyaza Rodriguez