The London Institute for Contemporary Christianity (LICC) hosted a Imagine Church Workshop in Winchester today for church leaders across the South of England.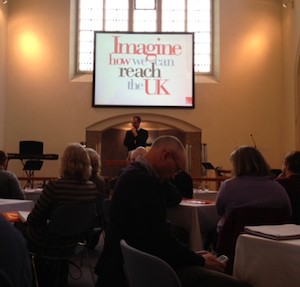 Imagine Church
Neil Hudson
The London Institute for Contemporary Christianity (LICC) hosted a Imagine Church Workshop in Winchester today for church leaders across the South of England.
Neil Hudson, author of Imagine Church hosted the day which attracted over 100 leaders from a variety of church backgrounds.
Speaking on the need to develop "whole-life" disciples, Neil explained the aim of the day was to ask how the good news of Jesus can become "public truth" in the UK.
"Our culture doesn't care what you believe as long as you keep it private. This creates a secular spiritual divide", he explained.
LICC was started by the late John Stott in the 1980s and it was his quote: "We are called to double listening: listening to the Word, listening to the world" that opened the day conference.
Neil explained that for the average church member, the maximum number of hours spent on church related activities per week is 10 while 110 hours are spent on the rest of life.
"The question is how does our life together in the 10 equip them for the 110?" Neil asked.
Neil said that while the Christians in Acts were called disciples he claimed discipleship is rarely considered as an ongoing whole-life part of church life today.
Neil challenged his audience that the primary missionary view of many churches is: "To recruit the people of God to use some of their leisure time to join the missionary initiatives of church paid workers".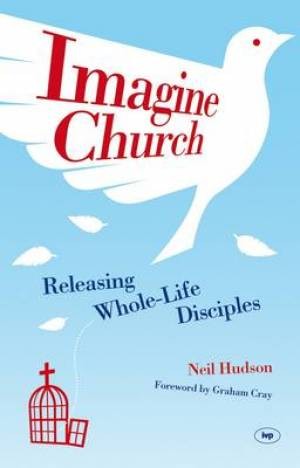 Neil explained the best mission strategy should equip people for "fruitful holistic mission together in all of their life".
According to a survey conducted in association with Spring Harvest in 2009, 40% of Christians at the event said they struggled with how to apply their faith to everyday life.
Neil says in his experience people leave churches for a variety of reasons but rarely because they felt they hadn't been discipled. Speaking about his own church, Neil said: "It wasn't because we did it well, it's because it wasn't in the contract."
Believing churches have a duty to disciple their congregations, Neil said, "courage is when you know the fear but still take the action" encouraging churches to change from just caring for people to equipping people for mission in their every day working life. He also encouraged "accountability, not just disclosure" in small groups.
Explaining that disciple making is the core vocation of the church, Neil outlined his vision to see people of all career paths and jobs well equipped.
"What do we have to say to people regardless of where they are on the career path?" he asked.
Explaining that "culture will eat strategy for breakfast", Neil outlined ideas to help change the culture of the churches represented.
Admitting he had been "surprised" at how slowly some churches move, Neil suggested that those who come from a church that only emphasise "gathered mission" would take between "18 months and 3 years" to change the culture.
Neil encouraged the leaders to gather a core team that would listen to where people are and recognise the world that most people are in. "Work is the context in which many people are living out the realities of their faith. It's not a topic, it's a context".
Neil encouraged leaders to find the stories of what God is doing in the congregation's work life.
"The glorious thing about this is not to make you feel bad but to reclaim what you were called to do".
The event was part of a wider roadshow that will see the LICC team travel on to Coventry (10th May), Cardiff (2nd October), Dawlish (8th October) and London (22nd May) to give the same seminars on Imagine Church.
April 25th, 2012 - Posted & Written by Sam Hailes