Michael Coveney of Transform Work UK, a charity that seeks to help Christians in the workplace, is the keynote speaker at the 2012 annual Librarian Christian's Fellowship conference. The conference this year is taking place against the backdrop of increasing library closures up and down the country.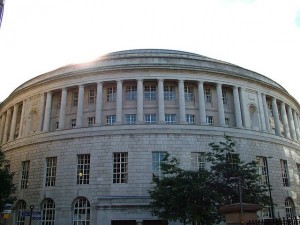 Manchester Library
copyright Cliffajw (creative commons)
Entitled "Librarians and Disciples in a Time of Trouble", this year's event will primarily address working life during the current difficult economic climate. Michael Coveney's talk is called "Flourish in a Time of Trouble." He says:
"No matter where you look, doom, gloom and despondency surround us. And yet in the midst of a global economic slowdown where the threat of redundancy casts an ever-growing long shadow, the Bible tells us to ˜look up" and to be cheerful. Not only that, it promises that those who love God will flourish irrespective of what is happening around them."
Over the past year, more than 100 libraries across the UK have either closed or are now being run by volunteers. Those left open are being "pared to the bone" because of cuts, according to a study by Unison. Job loss is a very real threat to this sector.
Graham Hedges, spokesperson for the Librarian Christian Fellowship said: "It is a difficult time for all public services, with local council funding cuts so widespread at the moment. Sadly it seems that libraries are taking a disproportionate hit though.
Librarians and library staff face every day with the threat of redundancy. Our aim this year is to help equip our members to deal with these issues. We hope that the conference will help people find resources in their faith to do so."
The day will also offer 'Three Views on Discipleship and Ambition', with three separate speakers looking at the scriptural view on handling career priorities, the work-life balance and developing and exploring gifts of leadership. The conference takes place on the 28th April in London. See here for more information.
April 5th, 2012 - Posted & Written by Riyaza Rodriguez