Catalyst's objective is to equip, support and inspire the next generation of leaders under 40. But is it an exclusive club?
When Catalyst started almost 15 years ago the world was a different place, leadership was likely to be considered something reserved for the older generation. But in recent years the impact of organisations like Catalyst on leadership and young leaders has helped change the landscape. The world we live in is waking up everyday to more and more young leaders both inside and outside the church. Look at Mark Zuckerberg (Facebook), Elon Musk (SpaceX), Craig Groeschel (LifeChurch), Marissa Mayer (Yahoo!) and Judah Smith (thecitychurch), all are changing the world with hardly a Gray hair or wrinkle in sight.

The original mission field or target audience for Catalyst was anyone in a leadership role under 40, as I fall into this particular audience I was really excited to hear about the coming book from Catalyst leader Lomenick. I'm already a Catalyst evangelist, although I've never been to the event (it's on the list) I've heard all the talks, and many of the books from the leaders involved sit on my bookshelves. So what makes a catalyst leader different?
One of the dictionary definitions for Catalyst is a person or thing that precipitates an event or change.
That means that you don't have to be at the top of the food chain (the person in charge) to be a catalyst leader, you can be a catalyst leader right where you are. You can make a difference and lead something without sitting on a board or in a position of management. And although Catalyst was originally aimed at the under 40's, it's not an exclusive club, anyone who wants to change the world can get on board, thousands of churches, businesses and organisations are being impacted by its teaching.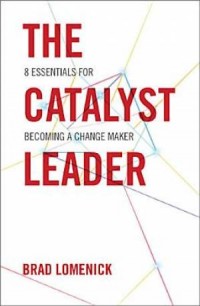 In his new book The Catalyst Leader, Brad Lomenick outlines some of what it takes to be a Catalyst leader. It's not an easy list to follow including things like Finding your Uniqueness, Making Excellence None Negotiable and Being Prepared to Jump - but no-one ever said leadership was easy. The book is just like everything that comes out of the Catalyst stable it's a resource to make you better - hugely inspiring and highly practical. If you're a leader of any age I'd recommend this book and if your dreaming of being a catalyst for change, The Catalyst Leader could become an essential tool on the road to changing the world.
April 6th, 2013 - Posted & Written by Jo Pountney