In March, the Kings Bookshop and Coffee Shop, Christ Church Baptist in Kings Langley celebrated its 16th Birthday with a special birthday cake, 10% discount for customers and balloons!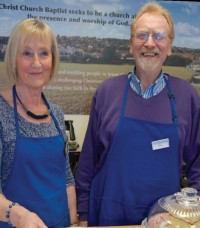 The shop opened in 1999 in response to the local need for Christian literature and material, after a nearby Christian retailer closed. In the early days it was simply a Bookshop serving coffee & cake, situated in the, then, new Church Foyer. Due to its popularity and proximity to the centre of Kings Langley, a Coffee Shop developed.
The Kings Bookshop & Coffee Shop has been managed by Anne Armstrong throughout this period. The large team of committed volunteers offers a warm welcome and seeks to show their faith as they serve and spend time with those coming in to the premises.
The Coffee Shop is now the busiest area selling good quality Fairtrade coffee – from a local coffee company – and a good range of home-made cakes and cookies baked by volunteers. It attracts customers of all ages and many relationships are built over Monday, Wednesday, Thursday and Saturday mornings when open. The Bookshop's huge range of cards, books, Fairtrade products and gifts are a magnet for shoppers, especially at Christmas time, even at a time when many shop online.
April 16th, 2015 - Posted & Written by Together Magazine