We catch up with Lawrie Stenhouse who is a Key Account Manager for Authentic Media. As you will read below, Lawrie clocked up a major travelling milestone last year. Lawrie, is married to Louise, and has two children: Megan 11 and Lorna 8.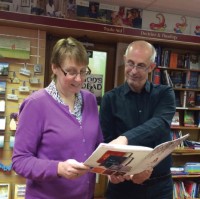 Lawrie Stenhouse
Lawrie with Julie Ann Ellis at Methodist Book Centre, Hanley
How many years have you worked in the Christian retail and supply trade?
In total, 28 1/2 years: 1 1/2 years in a Christian Bookshop followed by 27 years in field sales. Steve Mitchell & I worked out that I did my 'one millionth' mile on the road last year!
Can you briefly tell us the various companies and responsibilities you had during that time?
Emmanuel CBS – shop Manager
Kingsway Publications (Servant Group) – Field Sales Representative
Word UK – Field Sales Representative
Alliance Media – Field Sales Manager
STL – Area Sales Manager (ASM)
TMD – Area Sales Manager (ASM)
Authentic Media – Key Account Manager
What did you want to do when you were growing up?
Footballer, Athlete (sprinter). I do recall walking to school one day with my mates in the mid-70s and this question was asked. My answer was "to be a Sales Representative".
How would you describe yourself in three words?
Good, bad and ugly!
What is your favourite meal?
Sunday roast or Italian
What do you like to do to relax?
Watch football, good drama, QI, Question of Sport etc., live music and of course, what the rest of the family want to watch! Actively, I like to go for a run!
What do you like most about your job?
The variety! From selling a book/media concept to a book/album/DVD launch, in-store meet and greet with author/artiste.
What do you dislike most about your job?
When you can't get on-line for whatever reason, solving IT problems!
What gets you up in the morning (apart from the children)?
We all have our bad times and seasons, and I have had my share. Thankfully, I still enjoy what I do and that gets me out of bed!
What are your goals for Authentic Media?
In the first year, to make sure that our Top 100 trade accounts are serviced with the range of product we have, from the Authentic list, Paternoster, MBI, Provident Music, DVD Films, VeggieTales, Waterbrook/Multnomah & Broadstreet...quite a list aye!
I'm coming up to completing my first year with Authentic, we are experiencing constant change, adapting to market demand (like we all are). When I took my first sales role in this trade back in 1987, I was told "perpetual change is here to stay". We are a committed, experienced team and still learning. Selwyn Hughes once wrote "when one is vulnerable, one has the humility to learn".
June 14th, 2015 - Posted & Written by Together Magazine