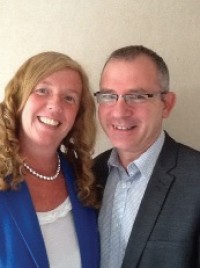 Over the past months we have featured most bookshops throughout Scotland and Northern Ireland but said little about the workplace that has taken up the past twenty fi ve years of our lives and where our very own love story began twenty four years ago as a pair of eighteen year olds.
The premises at John Ritchie Ltd (JRL) are situated in the town of Kilmarnock on the South West Coast of Scotland about twenty minutes' drive from the city of Glasgow. Situated in the same premises for the past forty three years, it's one of the oldest Christian publishing houses in Scotland. It is wholly owned by the Lord's Work Trust – a charity supporting missionaries in the UK and around the world. Any profi ts made by JRL are given back to the Trust and many of our published books are translated by missionaries abroad into foreign languages.
It has been the focus of change over the past few years, after initially purchasing STL when it went into administration and the adjustments this brought of being part of a much larger team, to the process of a Management buyout three years ago by our then CEO Ken Munro. The business had to re-align itself to becoming independent again although the links with TMD were still close. The demise of TMD last year brought about further challenges as we quickly had to set up distribution of our own products to the bookshops and find a new sales team. We have spent the last year recovering from the monies lost and are very thankful to God that we have managed to navigate what has been a difficult transitional year.
Raymond's re-involvement with the company came into force at this point as we pulled a new sales team together and his knowledge of the titles and authors made him the obvious choice for the key accounts. Roger Compton was also very familiar with the 'Ritchie bag' having sold for us previously with TMD and he now sells our products down South. We were able to speak with Teal Press and Joining The Dots and pull our resources together to enable them to sell for Ritchies and this arrangement works well. I do believe we are entering a new phase in the arrangement of sharing sales reps and (apart from Agents) it is something we would never have considered years ago. This is a positive step in working together as suppliers and I believe other companies will adopt this arrangement in the future.
The business is divided into three main areas – the bookshop, the distribution warehouse (from where the website and telephone orders are sent) and the publishing business.
The bookshop has grown substantially over the years having had a major refi t around ten years ago. We have had to deal with the same challenges that we all face as folks turn to the internet but are very grateful for our band of loyal customers and good links with churches who support us regularly. It has been particularly heartening at this time of the year to see the churches visit us for Sunday School Prizes and to keep the contacts with these churches throughout the year.
We have also been working to increase the number of events held within the bookshop and the level of footfall has been really encouraging. We recently held a children's storytelling session to celebrate World Book Day, to tell the story of Corrie Ten Boom and we also had a toddler's storytelling and craft session in June – a new venture for us.
We have had various authors visit for book signing sessions and recently had a musical evening to launch our Instrumental CD Be Still by Graeme Hewitson. Towards the end of June we always have a 20% discount day with Strawberries and Cream to coincide with Wimbledon and this is always well attended. These events are a great way of bringing extra income and new faces to the bookshop. The introduction of a small coffee area selling coffee/scones and cakes has also increased footfall and we hope to expand this in the future. No two days are ever the same in one week as we juggle the staff, the management of authors and manuscripts, making sure we have fresh new titles online and working with the distributors in the US. But we have a great team who "muck in" to various tasks that may not always be on their remit for which we are very grateful.
It can be so easy at times to lose focus of what we are really doing, as we fret about footfall and sales figures, but a call from a customer to tell us that the last batch of Bibles we sent him went into his local prison, and how God has used those Bibles, reminds us of the wonderful ministry we are involved in and encourages us to keep motivated in this service for the Lord each day.
August 3rd, 2015 - Posted & Written by Together Magazine