It's a fact. Youth Bibles - and their readers, are judged by their cover as much as their content. And no twelve to eighteen wants to be seen with a Bible that labels them too young or too old for that brilliant span of life with so many possibilities and so many potential problems.
We've packed every last thing that we could into these pages - and we've banned all jargon, so it all makes sense!" - Soul Survivor Youth Bible (back cover)
Youth Bible that shouts its youth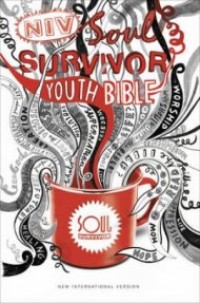 Featuring the best very in Christian music, arts, teaching and worship leaders Soul Survivor is the UK's premier youth festival and pivotal, life changing event in the lives of around 30,000 young people every summer.
Now the organisers have pooled their expertise and crammed a full British text NIV Bible and over 500 other bits and pieces into a striking, hard cover binding that shouts 'I am youth!' at the top of its festival hoarse, sleep starved, life loving voice.
Questions you can't keep the lid on
Like its festival loving readers, The Soul Survivor Bible is all about questions and issues. Bursting from the tin mug on the book's cover are all those things that teens and late teens actually want to face up to but don't want the pap answers that older and younger range Bibles try to give them.
World issues including suffering, oppression and consumerism explode across the cover alongside deeply personal questions like, 'What should I do with my life?' and, 'Why should I even read the Bible?' It's a cover than tells you exactly what you'll find inside.
It is what it says on the cover
This really is a Survivor's Bible. 500 notes – from a couple of lines to a couple of paragraphs, cover all the things that a Christian is expected to know about but few understand why. That's the reason you'll find the short info panels, scattered throughout its pages, littered with questions and question marks.
And it's not just the Christian 'givens' of worship, sacrifice, faith and prayer that come under real scrutiny. Questions too often avoided - the supernatural, faith healing and spiritual warfare also get a thorough going over.
Spiritual and emotional change
In the no man's land between carefree childhood and the restrictions of older life, youth is when you become acutely aware of yourself and your global involvement. Soul Survivor Bible helps you relate world issues of consumerism, politics and war to personal issues of relationship and direction to spiritual issues of faith, belief and moral action.
To many outside the Soul Survivor generation, this Bible has is a bewildering even irreverent cover – which is what makes it just right for the bewildering, irreverent world young people have to live in. And the truth is, it's not a world of their making but it is the one they'll have to make sense of and ultimately make better.
Bible that's not all work and no play
Soul Survivor Bible is more than a survivor's escape hatch, it's a gateway to the pleasures, adventures, excitement and sheer fun of being in your teens and late teens. Panels in Bible's text give you bizarre facts and information rarely brought out in stiff and stuffy older Bibles, or simplistic childish editions.

This is definitely a Bible to be seen with. It's a Bible that says something about its reader. It's a Bible that doesn't look out of place thrown on a bed or desk, stuffed in a rucksack or buried in a sports bag. And that's just the covers. Inside it's a Bible that goes where young people go and lives the life young people live.



August 31st, 2012 - Posted & Written by Les Ellison