"I wish it could be Christmas every day."
Although, for most of us, once a year is more than enough! Are your Christmas stress levels through the roof yet?! Choosing gifts and wrapping them. Shopping for the food, and pulling the whole thing together on time requires a massive amount of effort.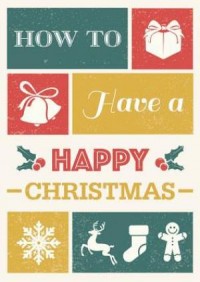 There's the pain of finding the right presents. We will cheerfully say, "It's the thought that counts"—but that requires thoughtfulness from both the giver and receiver! Many parents will feel guilty that they simply can't afford what some children and teens actually want. And it gets harder and harder to find things as we get older. What do you get for the man or woman who has everything?
There's the hassle of getting ready. It's not just fitting in all the shopping and wrapping. There are the clothes to wear. The cards to write. The arrangements to make. The tree to buy and decorate. Not to mention the food. Christmas day itself is fraught with anxiety for whoever is cooking. Sometimes it can feel like just another day in the office: you do all the work, and the guy in the red suit gets all the credit.
There's the struggle to keep traditions. We feel a lot of pressure to "get Christmas right". But many of the traditions we feel compelled to fit in with are relatively recent inventions. Christmas cards, Christmas trees, novelty sweaters and even what's on a Christmas plate are all comparatively new. And while traditions are great to follow—they are not compulsory. Santa's SWAT team isn't going to smash through the window and drag you away for eating goulash instead of a goose.
So why do we put ourselves under such pressure? Why do we knock ourselves out for this one day, striving to achieve some perfect Christmas where everyone has just what they want—where everyone is engaged and talkative and happy and there are no upsets. Are we simply setting ourselves up for disappointment?
I wonder if it's because, deep down, we feel the gap between the real and the ideal. We know the life we want. Comfortable living. Good relationships. Enjoyable times. That happy feeling of contentment that things are settled and good. But the reality of everyday life feels like exactly the opposite.
But if there could be just one day when everything worked, when no one complained, when everyone was happy, when everyone felt at peace with one another and contented… Then our hope for our lives and our families would be real. Perhaps, deep down, we are saying, "If I could have just one perfect day—then I could cope with the other 364".
This frustrated hunger for goodness, peace, rest and love is at the very heart of Christmas—because it is the very reason that Jesus was born into the world at the first Christmas.
Many think he came to impose rules—to give people more to do, a bigger burden to manage in life. In fact, he came to do the very opposite—to offer rest: a real sense of restfulness, not from the muddle and mess of life, but in the muddle and mess of life.
Jesus said: "Come to me, all you who are weary and burdened, and I will give you rest." (The Gospel of Matthew 11 v 28)
Turns out that the way to find real rest and renewal at Christmas is to understand who Jesus is and why he came—and to come to him.
This is an extract from How to have a Happy Christmas by Tim Thornborough.
December 7th, 2017 - Posted & Written by Laura White