Want a new, creative way to read the Bible? Check out our guide to getting started with Bible Journalling.

What is Bible journalling?
Bible journalling is a way of applying every day crafts: scrapbooking, doodling, writing, hand lettering and applying it to Bible reading, to bring the verses to life.
Sometimes, it's easy to just rush through scripture reading as another thing to tick off our list, Bible Journalling offers an opportunity to instead to sit down and spend time meditating on the Word.
How to get started with Bible journalling?
Journalling Bibles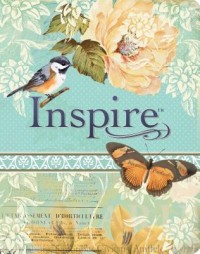 The journalling Bible has seen exponential growth in popularity over the last year. With a range of beautiful Bibles now available across translations. These tend to feature wide margins to allow for sketches, colouring and writing. They often contain full or half-page line drawings which can be coloured in.
The most popular is the NLT Inspire Colouring Bible which features a two-inch wide margin and over 400 beautiful line drawings. The Inspire Bible is also availble with a stunning, butterfly print cover.
But are also available in the NIV, NKJV, ESV and MEV (Modern English Version) translations.
If you're looking to go a bit deeper with your Bible journalling, check out the NIV Bible for Journalling and Verse-Mapping. This Bible study method encourages you to prayerfully choose a verse, compare it with other translations, study the context, including the history and characters mentioned, and then reflect and allow the Spirit to guide you in application.
Colouring Pencils
It's really easy to get started with Bible journalling, simply open your Bible and get stuck in. We recommend using pencils or crayons to avoid bleed through the thin pages.
You can also use paints, stickers, scrapbook paper, whatever takes your fancy. Let your imagination run wild as you delve into scripture and let your creative side take over, there really is no wrong or right.
Guides
For some people, the thought of "just getting stuck in" might be a little daunting. Thankfully, there are guides available: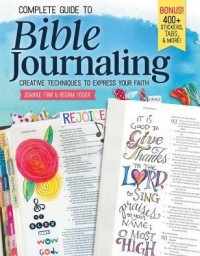 The Complete Guide to Bible Journaling does exactly what it says on the tin. Artist, Joanne Fink will guide you through the basics of Bible journalling including examples and inspiration from leading artists.
The Jesus Calling Creative Coloring and Hand Lettering guide opens up the world of adult colouring and hand lettering. With beautiful line drawings to colour in, based on the bestselling devotional, this guide also includes a tutorial and templates to practice hand lettering.
Inspiration
Ready to get started but in need of some inspiration? Both Pinterest and Instagram (#journalingBible) have hundreds of ideas from other people for beautiful designs, how-to-guides and more.
So unplug, unwind and unleash your creative spirit as your delve into your Bible.
Have you tried Bible journalling? Share your pictures with us on twitter.
June 28th, 2018 - Posted & Written by Laura White