BREAKING: The Home Office has confirmed that the government has banned Todd Bentley from entering the UK.
The news has forced the controversial preacher and healing evangelist to cancel his tour of the UK, which was scheduled to begin in nine days time.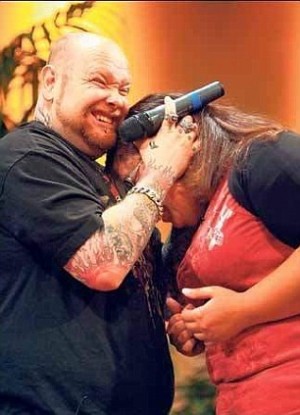 Controversial preacher Todd Bentley has been banned from entering the UK by the Home Office
In a statement the Home Office said: "We can confirm that Mr Bentley has been excluded from the UK. The government makes no apologies for refusing people access to the UK if we believe they are not conducive to the public good. Coming here is a privilege that we refuse to extend to those who might seek to undermine our society."
Writing on Facebook, Mr Bentley accused the government of making a decision based on a "false perception" from the internet and media. "The UK Government never asked our side of the story or gave any process for discussion. Disappointing but God wins!"
In a later official statement, Mr Bentley said: "I am deeply saddened by the recent decision of the UK government regarding my entry into the country. At this point, we are thankful to God for the support from our friends in the UK who truly love Jesus and embrace the supernatural, faith and healing. We know and believe that the UK has a great destiny, and we are praying for the leaders and those in government. Please continue to stand with us in prayer regarding this decision and our return to the UK."
Earlier this month, Malcolm Wicks, MP for Croydon North began lobbying the government to ban Bentley from visiting the British Isles.
The tattooed and pierced Canadian preacher, who has a chequered history, has previously claimed God told him to kick and punch people in order to rid them of illnesses including cancer.
Bentley, who was a key part of the 'Lakeland Revival' which was widely publicised in the UK, and sparked similar revival and healing meetings in Dudley and other parts of the UK, had to step down from his position when it emerged that he was romantically involved with an aide.
He later left his wife and got married to the young woman concerned, before entering into a public period of 'discipline' presided over by senior American church leaders.
But Bentley, who claims to have raised more than 20 people from the dead, says that he no longer uses violence in healing ministry.
And although critics point to his conviction as an adolescent for a sex attack on a younger boy, former drug user Bentley says he has repented of past sins, and is keen to visit the UK again.
However, videos remain online which show him making seemingly jocular remarks about violence in the context of healing ministry.
In one YouTube clip he said: 'And I'm thinking why is the power of God not moving? And He said, "Because you haven't kicked that woman in the face."
'And there is this older lady worshipping right in front of the platform and the Holy Spirit spoke to me. The gift of faith comes on me. He said, "Kick her in the face with your biker boot." I inched closer and I went bam! And just as my boot made contact with her nose, she fell under the power of God.'
Todd Bentley's last visit to the UK was in December 2011, when he ministered in Cwmbran, South Wales, again causing concern from the local Member of Parliament.
Conservative David Davies said: "I go to church and respect Christian beliefs, but I am concerned that some of the claims made by Mr Bentley are far fetched and should be treated cautiously."
During his Cwmbran visit Bentley told his congregation: "Everywhere we go we get testimony from someone who has been close to death, had stage four cancer or some incurable terminal condition and received a miracle.
"There would be nights where 30 people would get out of wheelchairs, incredible miracles, thousands of people would be saved every day.
"I prayed for 139 deaf mutes and we had 139 deaf and mute people hear and speak for the first time.
"Some people say miracles are not possible but for me it's impossible that someone is not healed."
And when asked by a twitter user what he thought about media coverage of his 'violence' – he said: "This story is truly a huge media sensation. It is so wrong and the furthest thing from who we are and how we minister. Sad!"
August 21st, 2012 - Posted & Written by Simon Cross