Eurovision organisers have moved to quash claims that Catholic crooner Englebert Humperdinck could become a terrorist target, when he performs in Azerbaijan.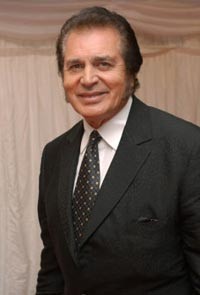 Englebert Humperdinck is unlikely to be phased by threats
The dismissal comes after threats were posted on the internet, leading to fears that the veteran vocalist could become the centre of unwelcome attention from violent extremists.
Sietse Bakker, Eurovision Event Supervisor said: "The Azerbaijani security authorities are of course monitoring this kind of activity. We are completely confident in their ability to ensure this year's Eurovision Song Contest is held safely, for the enjoyment of all, as always."
In 2009 a number of men were sentenced to long prison sentences for their part in a failed plot to attack a number of targets in the Azerbaijani capital city of Baku, which is set to play host to the contest in June.
Earlier this year, a new terror cell was uncovered – after they had managed to bring a cache of firearms and explosives into the country from neighbouring Iran.
Now there are fears that a renewed offensive is planned, after online threats warned that Eurovision was a target, due to its supposed promotion of homosexuality.
Britain's high profile entrant, Humperdinck, 75, who was born three years before the onset of World War Two, and is due to sing 'Love Will Set You Free' at the glitzy bash – could not be reached for comment.
But the aging heartthrob, whose real name is Arnold Dorsey, and who constructs a small altar in his dressing room when on tour, is unlikely to be phased by the threats.
Having played to sell-out crowds around the world, and already outlived many of his contemporaries, Englebert is used to the high risk – high reward world of showbiz fame.
The multi-platinum artist, who is a believer in faith healing, and says he prays for his audience during every performance – is currently recording a new album.
Security has been stepped up in Azerbaijan ahead of the contest, which will see singers from 42 countries perform before an audience of thousands. Swedish entrant Loreen is the current favourite to win.
April 26th, 2012 - Posted & Written by Simon Cross