From their beginnings in a former fish & chip shop in Hamilton, to the present store based in the GLO Centre in Motherwell, it has been an exciting journey!
Those 40 years have encompassed three moves, a major fire, working as the STL depot for Scotland and Northern England, and twice winning Large Christian Bookshop of the Year, in 2003 & 2010.
Among the events planned to mark the 40thAnniversary are special meetings in May, a sponsored 40 mile walk to raise funds for one of the key church planting projects, Youth events and a '40 Books to Change Your Life' feature.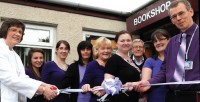 Andrew Lacey and the GLO team
Andrew Lacey and the GLO team
Andrew Lacey, the current store manager, commented, "It has been a real privilege to follow on from the pioneering work done in previous years. Although we haven't been immune to the recent downturn in the trade generally, we continue to make a positive fi nancial contribution to wider work of GLO and to serve the local Christian community. We look forward to a bright future, and express our thanks to customers and suppliers who have supported us so faithfully over the years".
April 18th, 2015 - Posted & Written by Together Magazine