For affirming gifts made to help nourish the faith of young people stepping out into the wide world, take a look at our recommendations for Christian Graduation Gifts.
Where to go next?
For many, leaving studies is the first step into the world of work and independence. The number of roads taken and not taken can seem utterly overwhelming. The doors to the world are now open. Divining the course your life must now follow requires advice from mentors, from trusted figures who at the very same precipice of life. Know Your Why by the judicious and insightful Ken Costa helps graduates start out in the world of work with perspective. It's a book about finding your calling in life and discerning the motivations that move us. For a healthy view of work, Know Your Why is an astute starting point. Banker, philanthropist, Christian leader and mentor to many, Ken Costa's advice bears sitting up and listening to.

Taking a more bite-sized approach to calling and purpose, more DIRECTION channels sleek design and punchy text into divulging biblical wisdom for life. With an eye on that paradoxical mix of millennial aimlessness with hyper-competition, the short questions of more DIRECTION offer an alternative to the problems of life today. They show a way of living with more purpose, more depth, and more direction.
Every age of life has its unique challenges. It's the job of each generation to pass down the lessons from personal experience, which is just what these books for twenty-somethings do. Helping the smoothen transition from 'Who am I?' to 'What do I do now?' to 'Who am I becoming?', these books each offers wisdom for life before thirty. For a shorter, call-and-response source of answers, there's 101 Questions You Need to Ask in Your Twenties. A mix of practical life questions, as well as deeper questions of identity and faith, this book is an anathema to the mentality of 'just getting by'. For a longer look at life in your twenties, Ready or Not speaks to that feeling of having grown up life thrust upon you. Through interactive chapters, suggestions for personal growth and practices for spiritual development, Ready or Not is perfect for anyone caught off-guard by their twenties.
And for something a little more specific, Twenty-Two by Allison Trowbridge is about just that; being twenty-two. Written as letters to a younger woman, the book is filled with freshly-lived insights and relatable experiences of life as a newly-minted grownup.
Keeping the Faith
There is a shift in faith when you leave home. Up to that point, for many, Christianity was something freely given. We hear stories at bedtime, hear lessons in Sunday Schools, pray with family members over meals, regularly attend the Church we most-likely grew up in. Christianity and home are inextricably linked. When many young people leave home, their faith stays behind with the blankets and soft-toys. It's the point where faith isn't something needed nurturing as much as it needs encouragement to stand alone. The obvious way help with that is by giving a new Bible that encourages independent exploration. The pages of the NIV Journaling Bible (4322415) are extra-wide and lined, suitable for personal notes, reflections and thoughts.

And for the young notepad aficionado, SPCK's Spirit Stationery Notebooks (Love & Peace) are an attractive and simple gift. Their minimalist design and high-quality components encourage note-takers, diarists and doodlers alike.
But for something more specific to supporting faith after university, more DISTINCT revives the ideal of holiness for a millennial audience. As a generation prizing difference and authenticity, you'd think we would cling to holiness as an aim. Yet, it seems to have been relegated to dusty shelf of outdated practices. Through the same bold design and punchy text as more DIRECTION, more DISTINCT helps readers reclaim holiness as something necessary for life today. The short bursts of text and quotes easily slot into busy life, and offer an alternative to the material aims of culture.
On an equally short footing, Pocket Prayers for Graduates by Max Lucado offer simple words for turning to God when hope and direction feel in worryingly short supply. Addressing the sequence of life events that lay ahead of twenty-somethings, they are a source of comfort in a time of big decisions.
Bonus books:
These books are not specifically written for graduates or twenty-somethings. But, and this is much more of a personal recommendation here, I feel they offer perspective and insights which have the potential to do the greatest good in the years following university. They help address the feelings of panic about identity and purpose, of not knowing who you are, and of how you can better relate to yourself, as well as the outside world. Danish philosopher, and favourite of well-read twentysomethings, Søren Kierkegaard wrote that "Anxiety is the dizziness of freedom." That anxiety often sits on the chest, and grows more potent with each passing year it isn't spoken to. The Sacred Enneagram by Christopher L. Heuertz and Finding God in the Waves by Mike McHargue speak to that anxiety acutely felt by young people. They, respectively, discuss areas of personal understanding and approaches to knowing the universe beyond immediate life. From personality to epistemology, these two books are thoughtful additions to any twenty-something's bookshelf.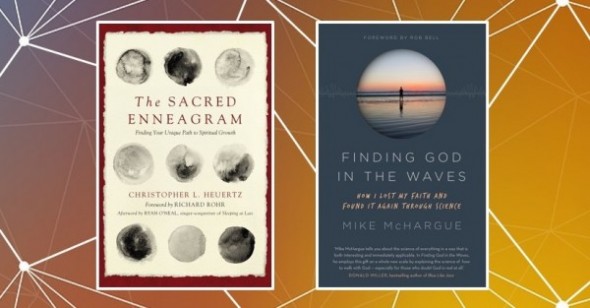 June 20th, 2018 - Posted & Written by Aaron Lewendon