Greenbelt has announced the first artists to be confirmed in its 2012 line up, they include Mercury Music Prize winner Speech Debelle, Canadian veteran Bruce Cockburn and British folk sensation Bellowhead.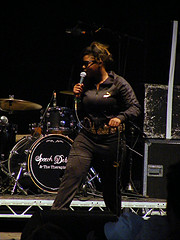 Mercury Music Prize winner Speech Debelle
Speech Debelle, who was the surprise winner of the Mercury Music Prize in 2009 for her album Speech Therapy, has garnered much critical acclaim for her politically and socially conscious output.
The soulful South London rapper will appear on the festival's mainstage, as will Canadian folk rocker and festival favourite Bruce Cockburn.
Known for his guitar skills and powerful lyricism, Cockburn will be joined by fellow folkie Seth Lakeman, the poster boy of the British folk revival of recent years.
Taking to the Greenbelt stage for the first time is Bellowhead, the award winning act who have taken the country by storm, getting rave reviews wherever they go. They have even become well known to radio drama listeners, providing the new take on the Archer's theme tune for 'Ambridge Extra'.
The 11-piece are widely renowned as one of the country's finest live bands.
To complete the 'new folk' weighted lineup are award winning The Imagined Village, and folk revivalists Megson.
Speakers will include the well known former canon chancellor of St Pauls Cathedral, Giiles Fraser, whose recent clash with Richard Dawkins made national headlines.
Professor Mary Grey, an expert on feminist Liberation Theology will join the roster of speakers, as will Times Journalist Ruth Gledhill, former Communard and BBC Broadcaster Reverend Richard Coles, and popular author and American New Monastic leader Shane Claiborne.
Festival veteran and former Radio One Breakfast show host Simon Mayo will be speaking about his first children's book, and boutique opera company OperaUpClose will be bringing their own hugely popular brand of theatricality to the crowds.
More speakers, performers and bands are expected to be announced in the coming weeks.
February 23rd, 2012 - Posted & Written by Simon Cross