A photography competition which showcases the positive impact of faith in the community has launched today.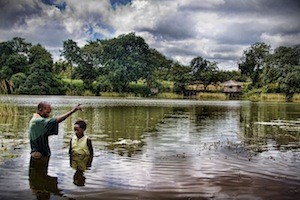 The Baptism
Last year's winning photo by Paul Verner
Now in its third year, the contest titled Faith Through a Lens, is open to amateur photographers from across the UK.
This year's contest includes an additional category to promote 'A Year of Service', a new initiative that is highlighting, encouraging and linking up faith-led volunteering throughout the year of the Queen's Diamond Jubilee.
Faith Through a Lens' judging panel is led by internationally renowned photo-journalist Don McCullin, who will be joined by Secretary of State for Communities, the Rt Hon Eric Pickles MP.
Revd Dr David Cornick, General Secretary of Churches Together in England, Paresh Solanki from Inter Faith Network and John Glass, General Superintendant, Elim Churches UK complete the judging panel. The entries will be judged based on a variety of criteria including visual impact, composition and emotional connection.
The three categories now open for entries are; Moments of Faith, Community Spirit Against the Odds and A Year of Service
An exclusive awards ceremony will be held in central London as part of the national celebration for A Year of Service during Inter Faith Week. The winning photographer in each of the three categories will receive a prize pack valued at £1400, which includes a Nikon V1 camera.
Winning photographers can also nominate a faith, charity or community group to receive £1000 of audio-visual or photography equipment of their choice.
Members of the public have the opportunity to influence the final selections by voting for their favourite image through the dedicated microsite –www.faiththroughalens.co.uk - when the public voting stage of the competition opens on 1st September.
Margaret Slater, Marketing Manager at Congregational, said: "Faith in the UK is vibrant, diverse and plays a very important role in many people's lives. In launching the 2012 competition we want to encourage people to capture everyday demonstrations of faith that enrich so many people's lives.
March 28th, 2012 - Posted & Written by Sam Hailes