The Story of Jesus is the cornerstone of the Christian faith. If there was only one story we could pass down to our children – it would be this one.
We've hand-picked our favourite Children's books & DVD's that explain the Easter story with clarity, sensitivity and a good sprinkling of creativity. We hope these help you to explain the Christian message at Easter to your children.
For Ages 2 - 4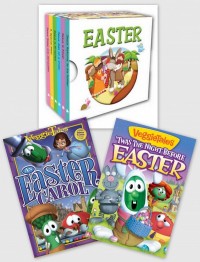 • The Easter Story split into 6 pocket-sized board books
• Simple words & bold font with bright, cheerful pictures
• Ideal size for taking to the park, grandmas or to church
Age Range: 2 – 4 years old
Christian Message: Not many books for younger children include the Last Supper as there aren't enough pages, but with the Candle Library the whole Easter story is included in 6 little books. Each part of Jesus' journey is covered in more detail with charming illustrations by Marie Allen (The Candle Bible illustrator).
Veggie Tales Easter DVD Value Pack:
• 2 Veggie Tales Easter DVD's for a great price
• 'An Easter Carol': Nezzer has banned Easter! Bob & Larry must convince him Easter is more than just eggs & chocolate
• 'Twas The Night Before Easter': the vegetable musical, 'Up with Bunnies', goes sour when Marlee tries to over-shadow Jesus
Age Range: 2 – 8 years old
Christian Message: Both DVD's are rip-roaring fun and end the entertaining adventure with a child-friendly, John 3:16 explanation of Easter – God loves us, so he sent his son Jesus to rescue us.
For Ages 4 - 6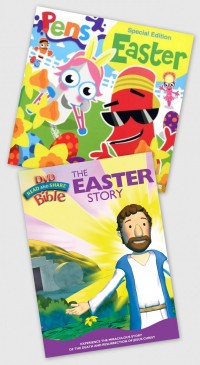 Pens Easter - Special Edition:
• Easter story plus 7 days of devotional activities
• Includes a Bible verse, extra story, fun question, and a simple prayer
• Ideal for Lent/Holy Week reading
Age Range: 3 – 6 years old
Christian Message: Read through the book 5 times, each time finishing with a different devotional guiding you and your child through Jesus' journey. The simple message centres on the 'New Life' all around us in Spring, and that Jesus died, came back to life and wants to give us eternal life.
The Easter Story - Read & Share DVD Bible:
• 30-minute DVD, respectful & truthful to the Bible
• Gentle narration, calming music & eye-catching animation
• No violence or disturbing images in Jesus' crucifixion, making this one of the only DVD's suitable for the very young
Age Range: 3 – 7 years old
Easter Message: Very different to Veggie Tales! Taken straight from the 'Read & Share Bible', the scripture has simply been digitised. The DVD's slow-pace and professional animation guides young eyes through the actual story.
For Ages 6 - 8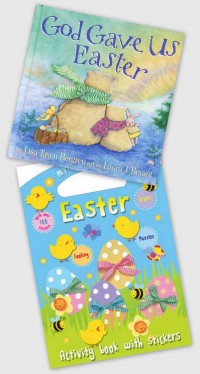 • Join Little Cub as Papa explains the meaning of Easter on a walk through the Arctic
• Creative illustrations to help children understand the reason why Jesus came
• From the popular 'God Gave Us' series by Lisa T. Bergren
Age Range: 4 – 8 years old
Christian Message: Beautifully explains the wider story of God saving us, including the Fall, Noah and the Flood, new life, prayer and eternal life. Confident readers will enjoy reading all 40 pages, while younger children will enjoy snuggling up for a bedtime story (and searching for the two bunnies on every double-page).
• Easter-related activities for crafty kids
• Stickers & bright activities for young kids, step-by-step crafts for older kids
• Carry-along handle for families on the move at Easter
Age Range: 4 – 7 years old
Christian Message: With over 100 stickers, cooking recipes, puzzles and step-by-step crafts this book will keep your children occupied. The Easter story is mixed in with the activities, reinforcing what they heard in Sunday school and read in books.
For Ages 8 - 10

• An engaging story explaining the whole picture of God's Plan
• More than just the story, this will develop you kids faith
• Wonderful sequel to Susie Poole's 'A Christmas Journey'
Age Range: 7 – 11 years old
Easter Message: Achieves what many children's books fail to do: evoke a response. Susie has crafted a story that encourages kids to actually respond to the Easter story, explaining that God wants us to change and live for him. This richly illustrated book is also suited to reading aloud to younger children as well.
Professor Bumblebrains Easter Comic:
• Full colour comic exposing the Easter Bunny's odd history
• Humorous story including fascinating facts about Jesus & the Bible
• Pack of 10: perfect to hand out at church, kids club or school
Age Range: 8 – 12 years old (but also a good gift for babies)
Christian Message: Everyone enjoys a comic, and Andy Robb has used that to his advantage creating a witty Professor and his pet cat called Einstein. The comic explains the ancient Pagan celebration, where the Easter Bunny has come from, proves that Jesus walked the earth and that he's the most important person at Easter (to which the Easter Bunny reluctantly agrees).
For EVERYONE:
• High-quality, full feature family movie
• Farm-yard rescue mission to save Judah, a Passover Lamb
• Engaging storyline which explains Jesus' sacrifice as the 'Lamb of God slain for the world'
• Ideal viewing for Easter services, kids clubs or the Friday night film
Age Range: 4 – 10 years old, but the whole family will love it!
Easter Message: Described as "Charlotte's Web meets the New Testament", Lion of Judah has re-imagined the Holy Week for the whole family. It's a wonderful tool which opens the door on discussing Jesus' death and resurrection with children.

January 25th, 2013 - Posted & Written by James Warwood