There are plenty of Christian books on topics such as forgiveness, healing, mercy, compassion and love. But there's only one which explains how to live out Jesus command to be "as shrewd as snakes and as innocent as doves".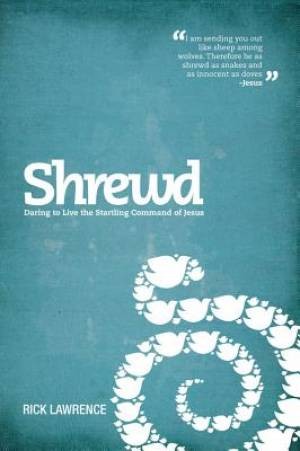 Jesus long neglected commandment is unpacked by Rick Lawrence in his new book, simply titled Shrewd.
Rick defines shrewd as applying the right amount force in the right place at the right time in order to move something in our favour.
He suggests Christians take the sideways as opposed to frontal approach, using leverage to unlock people and situations.
He argues that most Christians are "very poor practitioners" of shrewd and that "nice is naturally venerated as both the primary evidence of faith and its primary expression…very few of us do shrewd".
While it's true that many Christians view the practice of shrewd as a negative attribute, Rick shows how Jesus was shrewd and therefore it is something Christians should practice.
"We're far more familiar with the nasty, menacing, conniving ways evil people use shrewdness to harm us than we are with the kind, artful and redemptive ways God uses shrewdness to free us".
While the early chapters are a little hard going, as the book goes on and Rick's case builds, the possibility of becoming shrewd becomes more interesting, worthwhile and exciting.
One of the major themes of the book is that it's often in the context of proclaiming and progressing with the gospel that we must learn to be shrewd.
He lists various 'levers' including humility, being blunt and laughter as means to an end. He's also careful to reguarly remind the reader that it's only when your 'want' is born out of Godly innocence, that such levers should be used.
Rick unpacks the conversion of Paul as an example of God using the lever of 'blunt' to achieve his aim of salvation. He argues that Jesus is doing more than "merely forcing a puffed-up Pharisee off his donkey. He's pushing an immovable boulder down the hill toward the kingdom of God using "blunt-force trauma" to leverage His unsuspecting persecutor".
While 'blunt' clearly doesn't work in every situation, Rick points out that sometimes this "harsh leverage" is necessary.
To use a modern example, Rick tells the story of Tamrat Layne - an Etheopian who spent 12 years in solitary confinement. Instrumental in ousting his country's military regime in 1991, Tamrat was furious with those who put him in prison. One day he was given a gospel tract with just five lines on it. After he prayed 'If you are Jesus Christ then come to me and give me a new life' and went to sleep he woke up to see a brilliant light.
From one corner of the room a man appeared and said "I am Jesus. I am the only One who can give you a new life - the life you are searching for. Believe in Me and follow Me."
Despite getting hold of a Bible and reading it day and night, Tamrat's plans to murder the men who had put him in prison didn't change. A few months later, Jesus again appeared and told him to forgive those who had hurt him. Tamrat struggled and wrestled with Jesus throughout the night. Eventually he gave in and forgave the men.
Summing up the story, Rick writes "[blunt] is one of his most effective methods of persuation 'let me make you an offer you can't refuse'...[Jesus] understands that it will take more than a polite nudge to get a former communist insurgent who fought his way to the top of the Ethiopian power pyramid to drop his plans for revenge".
The book may attract controversy- but complaints will only come from those who have misunderstood the author's work. He is not advocating sinful behaviour which is sometimes associated with being shrewd. The principle is you can be sure you're being shrewd with pure motives then you won't go far wrong.
The Church owes much to Rick Lawrence. He's produced a fine introduction to a section of Jesus teaching which is all too easily forgotten. Shrewd isn't perfect. Readers will need to engage their mind more after reading the book than during it. This is in part because although the examples and stories contained in the book are interesting, they're not always directly helpful or applicable. Readers will need to brainstorm how to apply Rick's theory in their own lives.
Before reading the book, I came across an endorsement from Jon Acuff which said "ten pages in and my friends and I were already asking ourselves in meetings, 'How can we be shrewd in this situation? I loved this book!" Despite being a big fan of Jon's work I found the quote laughable to say the least. How wrong I was! It took me longer than 10 pages to 'get it,' but now I've reached the end, I can wholeheartedly agree with the many endorsements Shrewd has received. As I neared the end of the book, it dawned on me that I too had been asking the question, "How can I be more shrewd?"
September 20th, 2012 - Posted & Written by Sam Hailes