Egyptian Copts living in the UK are being urged by Church leaders to ensure they take part in the presidential election, and have a more active role in deciding Egypt's political fate.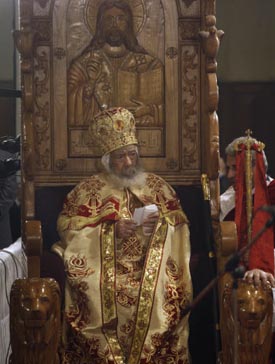 This comes after a poor turn out on the part of Copts in the recent Shura Council elections -- Egypt's upper consultative house of parliament. Islamists are now expected to take the Shura Council.
Leaders of the Coptic Church across Europe are encouraging followers to be more politically active, a move that will show support and solidarity with Copts living in Egypt.
Egypt's own Muslim Brotherhood had initially said it had not wanted to present its own candidate for the presidential election this year, and argued that it wanted a candidate acceptable to all. They are now saying that they would like a candidate with an Islamic background.
Shadi Hamid, an expert on Islamist groups based at the Brookings Doha Center said: "It's clear now the Brotherhood are willing to throw their weight into the ring ...to support someone who is in line with Islamic values and is sympathetic to Islamic law."
According to the leader of the Coptic Church in France, the head of Egypt's Coptic Orthodox Church, Pope Shenouda III has stated that the elections are not only a national duty but also a religious duty, as every vote by Copts abroad will make a differences to the fate of Egypt.
The upcoming presidential elections will be held on 23 and 24 May 2012 in Egypt while Egyptians abroad will vote in the presidential elections from 11 May 2012 for seven days.
March 8th, 2012 - Posted & Written by Riyaza Rodriguez