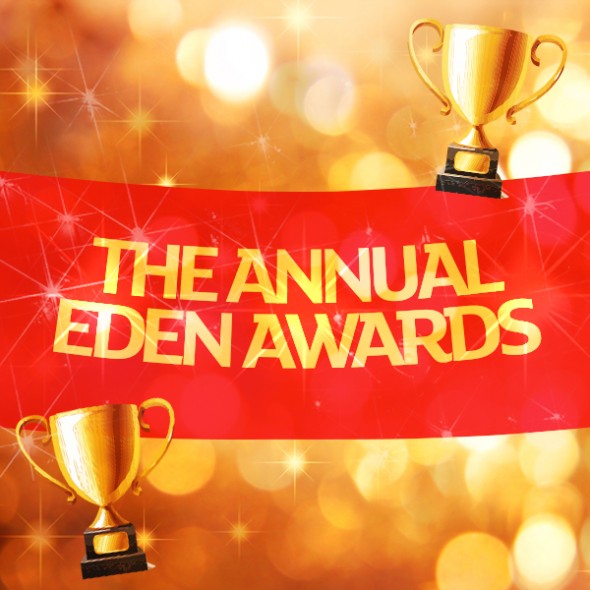 The annual Eden awards are back!
Throughout 2016 there has been some astounding children's resources that have not only acted as an engaging way to spend time, but have also taken the mammoth task of conveying the enormity of Christianity, faith and God in a way that is simple to understand, but also still true to what is written.
These are the resources that have told great truths with simple words. They teach children, instruct them, and help them grow into becoming men and women of God, all the while being fun and entertaining. No easy feat.
And so it is with great admiration that we announce the nominees for the best children's resources for this year's Eden awards.
Children's Activity Book

Finding new ways to tell the stories of the Bible is the hallmark of a good activity book. Whether it is through puzzles, colouring, games, and challenges, these are the books that showed the rich number of ways God's word can be told.
These are the best of the past year's activity books, showcasing the sheer creativity on offer in the world of Christian children's books right now.
Mega Bible Activity Book - Few activity books came as bright and fun filled as this. The Mega Bible Activity Book had everything you needed in an activity book: puzzles, colouring, stories, and stickers.
Doodle Through the Bible - More innovative than your standard 'colour-in' activity book, Doodle Through the Bible puts the job of storytelling in the hands of young, budding artists. It encourages children to draw and doodle the stories of the Bible, filling in the gaps and completing the stories with their own artwork.
Pens Sticker Books - With it's own lively cast of pen characters (with names like Denzil the Pencil), the Pens Sticker books are so alive that they feel anything but stationary. Perfect for introducing Bible stories to children for the first time, the Pens books take 3-6 year olds on a journey that shows kids just how much they are loved and known.
Mini Bible Activities - Telling key stories from the Bible one-at-a-time, these mini activity books are a simple, affordable, and easy way to share God's word - something that is the aim of every good activity book, sharing God's word well. Ideal as Sunday School prizes, these have fast become an invaluable resource for schools and churches.
Guardians of Ancora - Creating a living, breathing world is no easy task, and yet that is precisely what scripture union have done with their Guardians of Ancora books (and virtual games, videos, and other resources!). Using this rich creation, the holiday booklets further build up the world of Ancora, as well as creatively using this world to tell stories of the Bible in a fresh, new way for children ages 8 to 11.
Children's CD

Music is a key way of introducing not only worship, but ideas and concepts of God, to young children. It brings to lyrical life what faith means, what God is like, and what being a Christian means.
These CDs are both fun and open. They cause feet to jump, hands to clap, and are truly a party of praise.
Oomph - Doug Horley (or sometimes known as Dougie Dug Dug) has created some of the most imaginative, action-filled, and fun kids songs for many, many years. Songs like Fandabidozzie, God Loves Me, and Throw Your Hands Up have been sung for years in Churches and parties, and Oomph is no different. Zany and wholesome, Oomph is classic Doug Horley at his funky best.
99 + 1 - Few Children's CDs come with as many songs as this. Over 4 CDs, 99+1 has songs about nearly everything, and is a perfect tool for leading children's worship. These songs tell Bible stories, paint colourful pictures of God, give fresh expressions of praise, and are a musical library of worship for all ages.
Come Alive - Bethel Music has created some of the most iconic worship songs of the past decade, and now, with this, their first kids album, they have shown just what worship for children can be. These songs are empowering, joyful, catchy, and sung with the voices of children from Bethel church. Authentic and in a relatable language, Come Alive is by kids as much as it is for kids.
Getty Kids Hymnal: In Christ Alone - Praise and worship CDs for kids aren't in short supply, but Hymns seems to have gone amiss somewhere down the line. But no longer. Keith and Kristyn Getty, famous for hymns which have stirred the hearts of many, have created an album of moving and approachable hymns for children, and in doing show show that hymns are perfect for every age in life.
Ultimate Collection Kids Worship - The greatest worship songs for all ages, these songs from Tim Hughes, Rend Collective, Martin Hughes, and more all come together to prove one, valuable point: that no one is too young to worship. These are children's version of popular worship songs that infuse them with energy, catchy rhythms and hooks, and are loved by grown ups as much as children.
Children's Resources

Vital to Churches is engaging its youngest member. It is an investment in the future, and, more often than not, one of the most difficult audiences to share Christianity with. They are, after all, often referred to as 'the harshest critics'.
These resources as made to help you in that. They are the sharpest tools, the most dependable libraries, and reliable vehicles in sharing the Bible. They engage, push, and excite young minds. They show the life and depth of God's word in bold, new ways.
And they exist for one thing, to help you share the good news.
Tell it Together - Understanding that stories come from a rich history of sitting together round the campfire and telling of what happened, Tell It Together is a collection of Bible stories specially made to be told out loud. It uses visual language, repetition, and age-old methods of storytelling to help young listeners experience in their fertile imagination all the wonderous stories in God's word.
Christmas Family Time - From the brilliant minds behind Messy Church, this booklet to give away encourages families to share together in what Christmas means. It encourages conversation, questions, and is great for growing communication. More than just a booklet about Christmas, Christmas Family Time offers a way and method of exploring together what Christianity really means.
Guardians of Ancora - The trickiest of ages to reach, 8-11 tow that fine line between child and teen, and can often feel like the colourful books and Bible stories aren't as relevant for them as they used to be. Enter Guardians of Ancora. Spread across multiple platforms (video, book, game, and more), the series creates an immersive world in which stories from the Bible are explored with a fresh approach and engaging form.
The Big Book of Bible Crafts - A factory of ideas, this abundant resource absolutely fulfills its title. Filled with all manner crafts to help you make the stories of the Bible together, there are few books so replete with inventive new crafts as this.
God's Story - Each with 36 creative and exciting lessons, and not only suitable for Sunday schools, but also holiday clubs and midweek clubs, the God's story series have proven just how versatile a plan of Bible sessions can be. With each book tailored towards a specific age group, they can work together as a curriculum for all the children of your Church or club.
Books for Teenagers

Understanding and relevance are absolutely essential in creating a book for teenagers. They are also incredibly difficult to maintain as teenaged life is one in constant flux and change, where nothing seems to be still.
Yet, these books manage to tow that line, and share the life-changing aspects of the Bible with insight, poise, and a complete understanding of the difficulties of teenage life.
The Teenage Prayer Experiment Notebook - Down to earth, and incredibly practical, nothing about the The Teenage Prayer Experiment Notebook is beyond grasp. Instead, it offers an understanding introduction into new way of praying, as well as having comments from teenagers who have tried the Prayer experiments before.
3-Minute Devotions For Teen Girls & 3 Minute Devotions For Guys - An ingenious format, the 3 Minutes series branches out into helping teenagers with a minute-by-minute devotional series that is understanding, and offers a doable way of spending time with God each day.
True Story - Designed to start conversations within schools and youth groups, the eye catching True Story, produced by Scripture Union has been an invaluable resource for youth and schools workers across the UK. With rich and contemporary language, this short evangelistic booklet is set to be life changing.
NIV Manga Bible - With the artwork from Siku, one of the UK's leading manga artists, this NIV Bible combines the thrilling episodes of the Bible with dramatic images to create a vivid depiction of the great dramas of the Bible in a way that is contemporary and challenging.
Children's series

By using multiple books to either tell one epic story, or to reach a greater number of children by tailoring books to specific groups, these series have stretched what good Christian books for children can do.
There are books that have a unique idea which cannot be contained in a single binding, or that is made to last over several weeks, and are a deep dive that most books for children cannot squeeze in.
3 Minute Devotions For Girls & 3 Minute Devotions for Boys - Breaking down the devotional format into 3 easy-to-read minutes, these devotionals for children are the perfect length for active and growing minds, and have proved to be some of the most popular across the whole series.
Tales of Rome - An epic saga of armies and empires, the Tales of Rome series is a thrilling series that recreates the vast Roman Empire as its hero, a young Christian called Bryn, avoids danger and capture whilst trying to help the persecuted Christians evade the infamous emperor Nero. The series creates a vivid and believable Roman Empire, whilst still managing to capture reader's attention with exciting escapes and tense battles.
Topz Top 10 Boys & Topz Top 10 Girls - The Topz series have time and again proved their value in helping young Christians navigate both life at school and their faith. With many ways of sharing stories from the Bible to help build children up, this involving series has helped many navigate what can be a confusing time in life. Growing up.
Would you like to Know? - These books are made to be understood straight away. They are simple, caring, and understand the questions the children ask so well that they can succinctly tell the stories of the Bible in a way that is immediately understandable even the youngest of children. No easy feat.
Superbook DVDs - Made by Emmy-winning artists and storytellers, this 3D CGI series is filled with imaginative retellings of stories from the Bible. The Superbook DVDs all paint vivid images that are unforgettable and show new ways of seeing the Bible's epic stories.
Children's Books

Undoubtedly one of the most important activities for children growing up, reading is not only important in education, but also, with the right book, of one the greatest pleasures you can pass down the generations.
These nominations were the 'right book' for so many of you last year that it just goes to show what a good book can be capable of: it can stoke the imagination, deepen thought, and share truths that will last a lifetime.
A good book has no limitations, and these books have all show just that.
Diary of a Disciple - By far and wide our most popular children's book of 2016, Diary of a Disciple is an inviting and playful retelling of the Gospel of Luke. Using doodles, fun language, and the most friendly of narrators, Diary of a Disciple has shown just how fun and engaging the gospels can be, all the while teaching children the greatest story of all.
Mega Bible Activity Book - From the get go, this bright and bold activity book sings creativity and entertainment. Primary school aged children will be captivated by Bible stories as they glue, colour, draw and doodle.
Doodle Through the Bible for Kids - Segwaying into the sometimes overlooked 8-12 yrs category, this bumper edition of activities opens up the Bible to pre-teens. Encouraging kids to spend time in the word in a captivating and engaging way, this activity book proved a popular choice in 2016.
Mini Bible Activities Value Pack - To paraphrase Shakespeare "though they be small, they are mighty", these cute Bible activity books are jam-packed with puzzles, colouring and illustrations to help 4-7 year olds journey through the Bible. This range includes: Creation, Noah, Moses, Jonah, the miracles of Jesus and the life of Jesus. Great as an individual gift or to entertain a whole Sunday school.
Good Good Father - Grammy award winner, Chris Tomlin might be more comfortable behind a guitar but he didn't hit a flat-note with his beautiful children's book, Good Good Father. Stunningly illustrated by Pat Barrett, the tale of a little bear named Tucker will thrill and awe little ones for years to come. This year Chris also releases a special toddler edition.
Children's Bibles

The most book of all, reagrdless of its reader's age, the Bible is vital in growing up in faith. It is the first port-of-call, as well as last word, of matters of faith, and growing up with one can help develop a great faith.
Abd so, these are our picks for the best Bibles for children from the past year.
The Bible for Minecrafters - In just 6 years Mincraft grew from indie game to one of the biggest franchises in computer game history, empowering players to create whole worlds with its simple brick-based system. So what better way to recreate the immense world of the Bible? This Bible for Minecrafters uses the famous pixelated figures to tell the story of Christianity in a way that is appealing to fans of Minecraft, regardless of age.
The Lion Comic Book Hero Bible - Comic books are full of heroes and villains, and this Lion Comic Book is no different. Venturing from the greatest hero to the most devious of villains, this boldly illustrated graphic novel will entrance even the most reluctant of pre-teen reader.
NIV Manga Bible - Few art forms have come to fit telling the story of the Bible than Manga. Its iconic images, striking transitions and depictions of stories that defy belief show the sheer power and force of all that God does throughout history. With images from Siku, whose work has appeared in icon comic publishers 2000AD, as well as working with the BBC in their Atlantis series, the manga Bible acutely shows just how dramatic and revolutionary God's word is.
Beginner's Bible - This year The Beginner's Bible celebrates its 25th birthday! But the series shows no sign of aging or irrelevance as it reaches its first quarter of a Century. Containing 94 brightly illustrated, timeless Bible stories. The Beginner's Bible has proved to be a firm favourite in each generation.
February 17th, 2017 - Posted & Written by Aaron Lewendon