Harold Camping, the American evangelist who last year predicted that the world would come to an end on May 21st, has issued an apology letter and admitted he was 'wrong and sinful' in his predictions.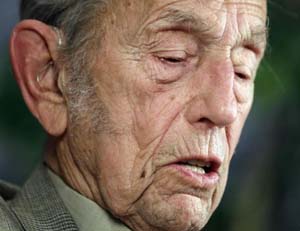 Harold Camping, who predicted the Lord's return twice in 2011, has publicly apologised.
90-year-old Mr Camping found himself at the centre of a media frenzy last year as the date he picked out for Doomsday, May 21, drew near. A seven-year publicity campaign had seen he and his followers spend almost $100million spreading the message that Jesus Christ was to return and believers would be raptured, a prediction of events that is in line with Biblical prophecy.
He also predicted a second date, October 21, when these events would culminate.
But now, Harold Camping has issued an apology letter through the California based radio station that he runs, Family Radio. In it he says: "we humbly acknowledge we were wrong about the timing" and "even the most sincere and zealous of us can be mistaken".
The letter goes onto say that Mr Camping believes that God used his 'May 21st Campaign' to draw the world's attention to the Bible and the message that Jesus will return. According to the letter, "In the months following May 21 the Bible has, in some ways, come out from under the shadows and is now being discussed by all kinds of people who never before paid any attention to it."
Harold Camping received widespread ridicule from mainstream media at the time, with many 'hoax images' of so-called raptured believers circulating on the internet when nothing out of the ordinary happened on May 21. He also came under criticism from the Christian community, with many believers pointing out to him that the Bible in fact says that "no man knows the date or time when Jesus will come again", a point which Mr Camping now admits to in his letter.
And it would seem that, having spent many years prophesying about the end of the world and end time events, Mr Camping now is ready to draw his predictions to a close. He states in the letter that he and his followers "openly acknowledge that we have no new evidence pointing to another date for the end of the world. Though many dates are circulating, Family Radio has no interest in even considering another date."
March 8th, 2012 - Posted & Written by Riyaza Rodriguez