Young people aren't hostile to the Gospel, they just fail to see the relevance of Christianity to their everyday lives, according to the leader of a new youth church in Exeter.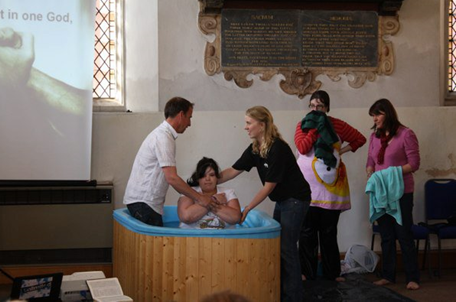 Rev James Grier, who runs Unlimited, a Fresh Expression of the Church of England – says that the young people he encounters are not at all hostile, but most of them have had no real experience of church, and just don't see the relevance of Christianity.
And he says Christians shouldn't be frightened to talking to young people, who are often in great need of support and friendship.
Rev Grier, 37, was speaking after Unlimited, which is based in Mary Arches church in the centre of Exeter, gained its Bishops Mission Order, effectively making it a legally recognised church without a set parish.
He said: "It's all fairly small scale, we have a team which is made up of people of all ages, we run a drop in session on a Wednesday, and Church on Sunday, which is done in the most informal way possible.
"A lot of our time is spent going out and talking to the young people who we have begun to get to know. In all, I think we must have prayed for 500 young people.
"And out of that, a couple of girls have become Christians and got baptised, but of course most of the young people we spend time with, haven't taken that step.
"The fact is that a lot of our time is spent giving pastoral care to these young people, most of them have significant needs, and often that is to do with broken family situations.
"In all the time we've been doing this, less than a handful of young people have been rude to us. The fact is that eight out of ten of them will let us pray with them, but the problem is that they just don't see it as having any relevance to them.
These young people aren't against Christianity, but it has no connection.
"So even if you freak people out by praying for them, they don't see any need to do anything about it. They don't recognise that this could or should mean a change in their life.
"We're trying to help them encounter God, and that's not about the intellectual stuff, it's about relationship.
"Many of them lack stability and adult influence, so they like what we have to offer them.
"When we go out to talk to the young people, we really never have negative experiences, except for a handful of very small things. People expect that the young people will be aggressive or antagonistic, they just aren't.
"You don't have to be cool, you don't have to be talented, you just have to put your fear to one side and be willing to talk and pray."
March 7th, 2012 - Posted & Written by Simon Cross