KJ-52 is back with a vengeance. Having consistently written and produced top quality rap music over the past 15 years, we've come to expect the best from KJ.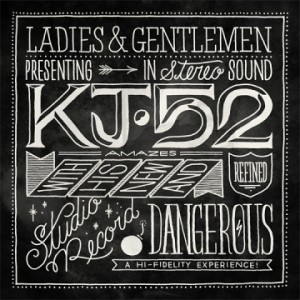 Featuring a host of excellent rappers, new album Dangerous makes the most of Canton Jones, Lecrae and Rhema Soul's talents.
While KJ's voice and the subject matter he raps about haven't changed, his style and attitude has matured magnificently. This release is a far cry from the days of It's Pronounced Five-Two and Behind The Musik.
Opening track It's Going Down has a dirty rap feel that you'd expect to hear in a club. This is followed up with They Like Me, which sees Lecrae announce "I don't do black music / I don't do white music / I do fight music / unified in Christ music". Telling the story of KJ's life growing up as "white kid in a black world", the song explains how the young rapper discovered a truly inclusive community; the church. It's an important message, and one which is delivered with considerable impact.
Superhero shocases KJ's position as the king of wordplay. The rapper cleverly intertwines the names of many superheroes with a direct and powerful gospel message. Catchy and fresh, it's a faultless song.
Title track Dangerous has a pop fuelled chorus not unlike something The Script or The Fray would record. Historically the rapper would invite other CCM vocalists in to record the singing, but with this record KJ has ventured into new territory. And he's pulled it off well.
Facemelt is a fun song with plenty of electric guitar parts and in your face vocals resulting in a high octane anthem. Reaching the halfway point of the album, we hit Do The Bill Crosby. It isn't fun, it's just silly. Despite the overall tone of KJ's new album being raised and matured, the rapper couldn't resist throwing in a track the man himself describes as a "dumb dance song".
Brand New Day is a mixture of hip hop, pop and funk not dissimilar to some of Toby Mac's work. Utilizing a variety of effects and sounds the song is definitely 'feel good', but fails to really stand out.
Speed That Light is a declaration that the rapper will "be that light" until "they all know Christ". KJ's trademark rapping and clever rhyming are on top form, but the simplicity of the backing is disappointing.
That Was My Life sees KJ mix up the musical style again. The rhyming sounds like something Lecrae would put together, but a killer bridge and powerful message make it one of the best tracks on the album.
Final song Go is a surprise. A cover of Hillsong United's hit, the song is effectively a remix as opposed to a new version created from scratch. KJ could definitely have been more creative with his arrangement, but it's good to see him giving a nod to a very different brand of Christian music.
Overall KJ should be very pleased with his efforts. Dangerous is one of the best albums the 36 year old has ever released. While longtime fans are sure to enjoy Dangerous, if you're new to the rapper, this is a great album to get hold of now.
Rating: 9 out of 10
April 19th, 2012 - Posted & Written by Sam Hailes