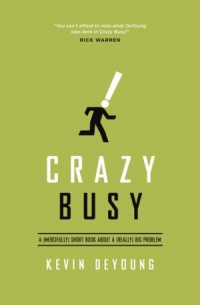 Crossway's Crazy Busy: A (Mercifully) Short Book About a (Really) Big Problem by Kevin DeYoung received the 2014 Christian Book of the Year from the Evangelical Christian Publishers Association (ECPA) at an event held at the end of April.

This award, the premier award of the 2014 Christian Book Award program, is regarded as the industry's highest book honour and is bestowed upon one title from all eight finalists.

Among the category winners were Alister McGrath's C.S. Lewis–A Life (Tyndale House) and Tosca Lee's Iscariot: A Novel of Judas, (Howard Books). The New Author award went to Hattie Kauffman for her book Falling Into Place, (Baker Books).
The Christian Book Award program wasestablished in 1978 as the Gold Medallion Book Awards to recognise the absolute highest quality in Christian books. It is the oldest and among the most prestigious awards in the religious publishing industry.
December 3rd, 2014 - Posted & Written by Together Magazine