Scotland's biggest international development agency, The Scottish Catholic International Aid Fund (SCIAF), has given its backing to a textbook promoting global citizenship - for use in schools and universities across Scotland.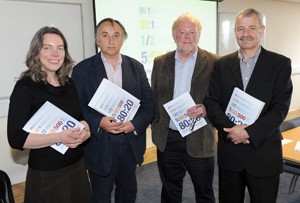 L to R, Philippa Bonella, Head of Communication at SCIAF, Prof Michael Osbourne Chair at CRADALL, Colm Regan Book Editor
This is a totally revised and updated version of the education resource 80:20 – Development in an unequal world, which provides young people with a comprehensive introduction to many of the world's major development, human rights and justice issues.
The 2012 edition is the 6th edition in print and includes new chapters on women's rights, justice and development, resources, conflict and development and art, literature, music and development. It is also accompanied by a DVD of themed videos, activities, posters and stimulus sheets for promoting discussion and debate.
The book was launched at a seminar at the University of Glasgow on April 18th. Organisations involved in the launch included the Conforti Institute, the University of Glasgow's Centre for Research and Development in Adult and Lifelong Learning (CRADALL), Glasgow Centre for International Development (GCID), Oxfam and SCIAF.
Professor Brian Boyd of Strathclyde University commended the book to teachers and learners alike: "If we really believe that enabling young people to be 'responsible citizens' is a fundamental aim of the curriculum, then this book, with its in-depth analysis of a whole range of issues affecting people across the world, should become an essential resource in the 'learning classroom'.
"It is attractive, engaging, challenging and never simplistic or patronising and could allow schools to put global education at the heart of the curriculum. It is particularly useful as schools seek to engage learners in inter-disciplinary learning."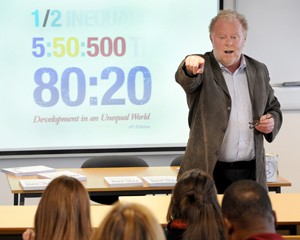 Michael Osbourne speaking at the book launch. Both photos by Paul McSherry
SCIAF's Head of Education and Communications Philippa Bonella said: "In additional to SCIAF's international programme work in Africa, Asia and Latin America, we believe it is vital to tackle the underlying causes of global poverty and injustice. It is therefore critical that we invest in educating young people.
"Having an informed, civil society which is prepared to take action, challenge and persuade decision makers is crucially important if we are to create a more just world for all.
"Recent successful campaigns that SCIAF has been involved in with coalitions of other NGOs, like Oxfam, on issues like climate change and corporate social responsibility highlight the tangible impact of our education and awareness-raising work in Scotland.
"The world is a complex place and changing all the time. We have a duty to give young people the tools to analyse it for themselves, and find out what kind of global citizen they want to be. I have no doubt that 80:20 will make a big impact on those who read and use it, and can help us deliver positive change in the future."
April 20th, 2012 - Posted & Written by Claire Musters