Eddie Olliffe reports on the award winning bookshop set right in the heart of national and church government territory.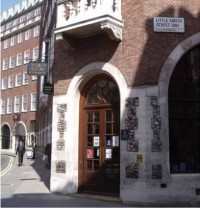 The Church House Bookshop in London won the accolade of Independent Large Retail Shop of the Year at the CRT Awards in June. In preparation for these awards, and following its nomination, I visited the shop earlier this year to see for myself what changes have been made.

The recently refurbished Church House Bookshop, situated near Westminster Abbey in London is a delight to visit. It's bright, light and airy with high ceilings and distinctive semi-circular metallic feature windows. The deep red armchairs are inviting and the book range is both wide and deep, reflecting a broad churchmanship whilst understandably and rightly centering on its historic Anglican market. I spied a 'signed copy' promotion and a number of well stocked promotional tables when I was there.

Church House Bookshop is just off the main tourist drag, adjacent to the Church House conference centre in Great Smith Street and right opposite the Department of Education.

The shop began life in 1936 as an Anglican library and resource centre, and then branched into bookselling as a Book Room in 1946. Mark Clifford, now of Sarum Books, was a previous manager.

Since 2006, the shop has been owned by Hymns Ancient and Modern and is part of the Norwich-based company that publishes the Church Times. In these uncertain days, it's good to visit a shop with a secure and stable future, located in an important part of central London, particularly now that so many of the larger city centre Christian outlets have closed.

I met with Aude Pasquier who, amongst her other company responsibilities, oversees the shop. Aude joined HA&M in 2011 from DLT and SPCK. Events are increasingly important and the team look after the Greenbelt shop and are involved in their own Bloxham 'Festival of Faith and Literature'. The shop is the 'public face of HA&M' but is left very much to its own devices.
This is a destination shop for a market comprising clergy and church professionals, teachers visiting the DOE, civil servants from the nearby Ministry of Justice and a tiny, mainly elderly local community. Thursday and Friday are the busiest trading days, Thursday being publication day for the Church Times. Opening hours are often extended for the synods and conferences held next door at Church House (the legal link between the two ceased in 2006).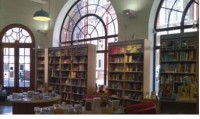 The shop statistics are impressive: a five member staff team with over 60 years of bookselling experience between them (Hatchards, SPCK, Wesley Owen and Mowbrays), a turnover which would be the envy of many mainstream booksellers, and the appealing summer 2013 refit at a cost of £70k.

The challenges facing the shop are two-fold: remaining competitive on price and availability and keeping the 'right' range of titles in stock. Good links with their own Norwich warehouse ensure that customer orders can be turned around quickly.

As Michael Addison, Sales and Marketing Director and HA&M says, "Whilst Church House Bookshop has a wonderful, loyal customer base - we are doing what we can to broaden this out ... especially to a younger audience at events."
This is an outstanding bookshop with an evident and proud commitment to range bookselling.


July 11th, 2015 - Posted & Written by Together Magazine