A senior Catholic Bishop has warned that Christians may be forced out of Syria en masse, if power is handed to Islamist groups.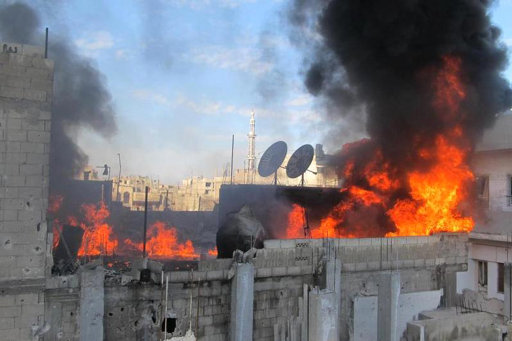 The prelate, speaking from Northern Syria, says he fears that the 2.5 million Christians living in the troubled middle eastern country will be one of the groups likely to suffer most, if President Assad falls.
Traditionally Christians have prospered in Syria, where the government headed by President Assad has been very tolerant of differing religions.
After the second Gulf War, many thousands of Iraqi Christians sought sanctuary in neighbouring Syria, during the mass exodus of Iraqi believers which began when Saddam Hussein was toppled from power.
The Bishop, who can not to be named for security reasons, spoke to Catholic Charity Aid to the Church in Need, as reports from the city of Homs told of religiously motivated bloodshed taking place alongside the shelling from Government forces.
According to some sources, up to 80 percent of Christians have fled troubled regions in part as a result of violent persecution.
The bishop said: "We in Syria do not want to become like Iraq [where] we have lost so many Christians because of war and devastation.
"Of course people want to stay but the insecurity and violence encourages them to leave.
"We Christians want to stay in Syria and live peacefully and with everybody and continue our presence serving our country and our people."
Earlier this month Ignatius Joseph III, Patriarch of the Syrian Catholic Church, reportedly warned Assad's downfall might spell disaster for Christians, with Islamic terrorists "targeting" Christians.
And Lebanon's Archbishop Paul El-Sayeh called on all sides in Syria to put down their arms in a bid to prevent the conflict escalating into full-scale civil war.
But despite the dire situation facing the Libyan people, the bishop was clear that he is not calling for foreign military intervention in his country, noting that Libya has the ability to resolve the problems internally.
He said: "We do not accept foreign intervention. Action of this kind is against every international law. We are able to organise ourselves and continue our life."
In neighbouring Iraq, Christians rushed to leave the country as violence spread following the fall of Saddam. Population figures show that while Christians accounted for five percent of the population in 1997, they dropped to less than 300,000 in the years following the downfall of Saddam Hussein.
February 29th, 2012 - Posted & Written by Simon Cross