If It Leads Me Back is Lindsay McCaul's stunning debut album. The Chicago based singer songwriter always dreamed about having a record deal but never really believed she'd make a career out of music.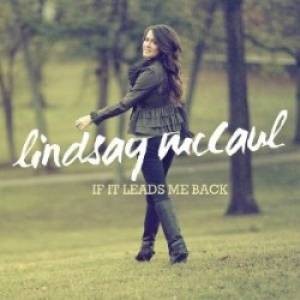 But thanks to a series of events involving top songwriter and producer Jason Ingram, Lindsay soon found herself signed to Provident Records.
Having completed a tour with Casting Crowns and Sanctus Real the 28 year old has transitioned from reluctant college worship leader to a big name in the CCM world. Even on a first listen to her album, it's clear her success is well deserved.
Acoustic based, but in no way folky, the sound is mature and God centered without adopting a congregational worship feel. The Texas born singer revealed in a recent interview that when she first wrote songs for church, the leaders told her they weren't worship songs!
The songs on If It Leads Me Back probably don't quite fit the worship mould either. Personal and often story based, these songs may not be played at your local church, but they are sure to inspire and uplift the listener wherever they are played.
Every song is inspired by a scripture and the majority of the tunes on the album were co-written with Jason Ingram. Lindsay has also written with Hillsong's Mia Fields and Marty Simpson for the recording.
Like Casting Crowns, Lindsay's true talent lies in the lyric writing more than the music. Her gifting in writing thought provoking and emotionally impactful words is obvious from the outset. Containing a combination of somber and joyful songs, it's a magnificently balanced album that leaves the listener satisfied when the 40 minutes of music draw to a close.
With no track record to base a decision on, buying any artist or band's debut album is a risky business. While names like Casting Crowns and Jason Ingram may help Lindsay find an audience, ultimately her music speaks for itself.
The album may not redefine the pop genre by utilising flashy production, but it does give hope to humble Christian singer songwriters who don't want to lead thousands in worship. Is there room for pretty songs rooted in personal experience and scripture? This album doesn't just prove that the answer to that question is 'yes'. It boldly declares that such songs aren't just pleasent to listen to, they are just as powerful as congregational songs.
If you need some chilled out, God-glorifying pop in your life then go ahead and get this album. You won't be disappointed.
Rating: 8 out of 10
August 30th, 2012 - Posted & Written by Sam Hailes